Textbooks at Central Penn College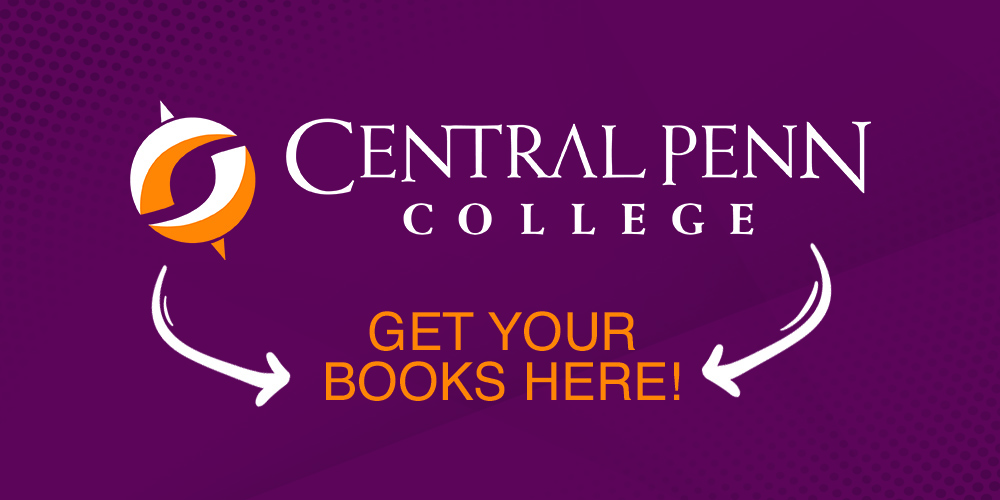 Frequently Asked Questions about the New Textbook Buying Process
Q: Am I required to buy my textbooks online?
A: You can buy your textbooks online, or buy in person. It's your choice.
You can either
1 -buy online at https://bookstore.hacc.edu/  (HACC is our new partner for textbook purchases, beginning in 2023.) 
2- Go in person to the Maurice Overholt Bookstore on HACC's Harrisburg campus, behind Commonwealth Charter Academy (One Innovation Way) and just north of the State Farm Show Complex, at the corner of Cameron Street and Industrial Road.  The Bookstore is located between the Cooper Student Center and the Ted Lick Administration Building/Mumma Hall. 
Q: Where exactly is the HACC Bookstore located on campus?
A: The Maurice Overholt Bookstore is a free-standing building on HACC's Harrisburg campus. It is not housed inside a larger building on campus. It is easiest to find the Bookstore if you enter through Wildwood Entrance 3, as you proceed down Industrial Road. Parking spots are always plentiful in Lots W10 or W12 for closest access. The Bookstore is located between the Cooper Student Center and the Ted Lick Administration Building/Mumma Hall.
A campus map is located at the bottom of this page.
Q: I'm on the HACC website. How do I order?
A: To buy online, go to https://bookstore.hacc.edu/
Click on "Textbooks" in the red box at the top.
Click on "Buy/Rent Books." 
Then select "Shop Course Materials."
Then, 1. "Select a Campus Term" link. 
Choose "Central Penn College Spring 2023" from the drop-down menu.
Next, 2.  Find the classes you are scheduled for during the Spring 2023 semester. For example, ACC 100, MAN 230, etc. 
Once you have chosen the appropriate department, course number and section (choose "ALL"), "Add Course to List." 
Repeat the process to add additional courses. 
Once you have gone through all your courses, click the red "Get your Books" tab on the right. 
You will see a list of all the textbooks displayed next.  Choose the books to add to your cart and then purchase them as you would any online purchase.
Textbooks may be picked up at the HACC Bookstore in Harrisburg (1 HACC Drive) and/or delivered to your home address.
Choose Shipping Method- UPS Ground (shipping costs) to have your order shipped or
 Pick-Up at HACC (no shipping costs) to pick up at the Bookstore location. If your order exceeds $250 in physical items (non-electronic books), it is also free to ship. 
Payments can be made by using a valid credit card (Visa, MasterCard, or Discover), or Student Financial Aid. (Before placing an online order using Financial Aid, you must click the link for more information.)
After placing an order online, customers will receive two emails. The first is an order confirmation email that will be sent after the order is placed. 
The second is a notification that the order has been processed and tendered successfully. Customers will then receive a shipment tracking number when it ships.
Used textbooks sell out quickly and may or may not contain all items that are included in a new textbook package.
Books or materials purchased incorrectly from the HACC Bookstore website are fully refundable in accordance with the store's textbook return policy.
The HACC Bookstore is not responsible for incorrect books and materials purchased from any other source.
Q: How long will it take for my textbooks to arrive if I order online?
A: When you order, you will be notified when to expect your books, but ordering early is always advisable.
Q: When can I start ordering my textbooks?
A: Books can be ordered starting in Week 9 of the prior term. Book vouchers are sent to qualifying students on Wednesday of Week 11.
Q: Can I buy used books online?
A: Yes, but they sell out quickly, and used textbooks are not always available for all courses. Order early.
Q: Can I rent textbooks?
A: HACC will offer some titles as textbook rentals to Central Penn students. HACC will invoice CPC for rentals that are not returned. The balance due on an unreturned rental is the difference between the rental price and the sale price, plus $25.
Q: Can I use my Visa or Paypal?
A; Yes, you can use all major credit cards and Paypal to buy books online.
Q: Can my friends or family members or fellow classmates pick up my books for me at the HACC Bookstore?
A: Yes. HACC Bookstore staff will ask for an ID. It can be any form of photo ID. If someone is picking up an order, and their name is not on the order, please email bookstore@hacc.edu telling us the order number and who will be picking it up.
You can also use the comment box on the payment screen and say something like, "Alex Smith will be picking up this order for me." As long as they give their full name and that designated person brings a picture ID, they may secure your order for you.
Q: Is free shipping available?
A: If your order of physical items –meaning items that are not e-books—totals $250 or more, it will be shipped for free. A shipping surcharge may apply to orders containing electronic merchandise or larger items. Shipping to the HACC bookstore is also free to you.
Q: Can I return my books if I ordered the wrong ones?
A: Yes, we abide by HACC's return policy, and will accept returns of undamaged books.
Q: Can I buy ebooks?
A: We make every effort to offer ebooks if they are available.
Q: What if I have textbook vouchers for CPC?
A: You can use those vouchers to purchase books. They will be accepted both online at https://bookstore.hacc.edu/ and in-person at the bookstore. Click on the section of the online site on Financial Aid to apply the voucher/s to your cart.
Q: Can I re-sell my books?
A: Yes, more information on book buybacks will be announced soon. Currently, we hope to have a one-day buyback in a centrally located area during Week 11. The buyback company is expected to come directly to the Central Penn campus for a one-day buyback. Check the website and Student Central for more details as they are confirmed.
Q: When is the HACC Bookstore open?
A: Weekday hours are
Monday 8 am – 4:30 pm
Tuesday 8 am – 4:30 pm
Wednesday 8 am – 4:30 pm
Thursday 8 am – 4:30 pm
Friday 8 am – 1 pm
The store is closed on Saturdays and Sundays.
Q: How can I avoid shipping costs?
You can have the books shipped to the HACC Bookstore to avoid shipping costs.
If costs are above $250 for physical items (not e-books), books ship for free to your home.
Q: Can I buy textbooks from other suppliers?
A: Yes. However, if you want to use your school textbook vouchers, outside suppliers will not honor them. Prices may also not be comparable, so please shop around for the best buys.
Q: My book has several editions. Which one should I pick?
A: If multiple editions are listed, that means your instructor has approved several editions. You can pick the one you prefer.
Q: Can I buy other Central Penn College merchandise at HACC's Bookstore, too?
A: Yes, we hope to have T-shirts, sweatshirts, and other Knight Nation gear in the HACC Bookstore by mid-March.
Q: Will any textbooks be sold at the Knight's Keep on the Central Penn campus?
A: No. Under the new arrangement with HACC, all textbooks will be sold through HACC, either online or in-person.
Q: What if I have other questions?
A: If you have any questions or concerns, please email bookstore@hacc.edu.