Central Penn College Campus Clinic
The Campus Clinic is located in super suite 127 at the intersection of College Hill Road and B Street of the Summerdale main campus. The clinic is open on Mondays and Thursdays from 9 a.m.–1 p.m. for on-campus hours and available for virtual care hours Monday–Friday from 9 a.m.–9 p.m. by appointment.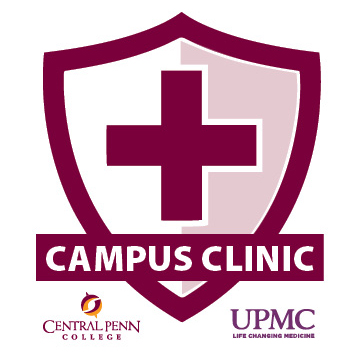 Walk-In Hours
The Campus Clinic will be available for walk-in hours on Mondays and Thursdays from 9 a.m.–1 p.m. Modifications and adjustments to walk-in hours availability may be made in accordance with COVID-19 health and safety protocols.
On-Site Clinic Appointments & Scheduling
Students, faculty, and staff may request appointments at the Campus Clinic by calling 717-728-2431. A clinic staff member will make contact to schedule a specific time and day for services.
Insurance
If using on-site health services, students, faculty and staff only need to provide a valid Central Penn College student ID. Insurance information will not be required for services rendered by medical staff and practitioners on-site.
If using virtual care, students must submit valid insurance information on the My PinnacleHealth information page when requesting services. The utilization of virtual care hours is subject to insurance billing and related procedures.
Virtual Care
Students, faculty and staff may request a virtual video appointment with campus clinic medical staff by submitting request on the patient portal at pinnaclehealth.org/patient-portal/online-video-visits.
Students, faculty and staff must set up a My Pinnacle health account first to access virtual care visits. To set up your My PinnacleHealth account please access the following URL mypinnaclehealth.org/MyChart/signup.
Basic Care Services
The Central Penn College UPMC Campus Clinic will offer basic care services, labs and testing. Additional services and extended care will be available at the Good Hope Urgent Care Location.
Treatments
Allergies
Athlete's Foot
Sinus Infections
Sore Throat
Sprains and Strains
Upper Respiratory Infections
Bladder Infections
Cold and Flu Symptoms
Cold Sores
Cough
Ear Infections
Insect Bites
Laryngitis
Minor Burns and Rashes
Minor Sunburn
Pink Eye
Poison Ivy
Ringworm
Labs and Testing
Pregnancy
Rapid Strep
Urinalysis
COVID Testing
Central Penn College Campus Clinic
127 College Hill Road
Summerdale, PA 17093
717-728-2431