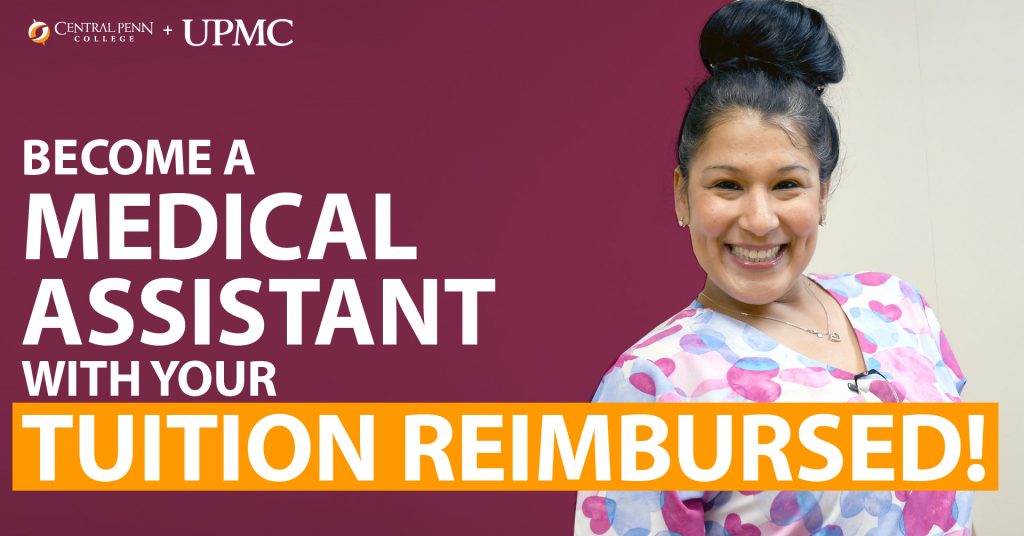 If you're looking for a career where you can make a difference, with the chance for full tuition reimbursement, consider attending our UPMC Medical Assistant Diploma Virtual Visit Day!
Firstly, we welcome you to this event to learn more about pursuing a career as a Medical Assistant. During the event, an admissions counselor will review college policies and specific program requirements for entrance into the Medical Assistant Diploma program. Last, attendees will have the opportunity to speak with the Medical Assistant program faculty and hear from a financial aid coordinator.
AGENDA:
What we offer at Central Penn College
An Overview of the Medical Assistant Diploma Program
UPMC/Medical Assisting Industry insights with UPMC
Financial Aid, Scholarships, Sponsorships, & Housing @ Central Penn
Admissions to Central Penn College & Next Steps
Question & Answer from Attendees
This new program can be completed in less than two years and provides students with the technical knowledge and skills required for employment as a member of a healthcare team.
Sign up now because this event is open to everyone!
This will be an online event hosted in a Zoom meeting room. If you don't already have Zoom installed on your computer or mobile device, you will need to download the application and create an account. To download Zoom on your desktop computer, laptop or mobile device, click here.
Register Now