Educating in Central Pennsylvania, since 1881
Central Penn College is a small private college in central Pennsylvania offering nine bachelor of science degree programs, seven associate in science degree programs, three associate in applied science degree programs, a master of professional studies degree program and more than a dozen post-secondary certificate programs.
Since 1881, Central Penn has been a leader in delivering career-focused education to students in Pennsylvania and beyond. With an average student to teacher ratio of 15 to 1, students never feel like "just a number" at our institution.
Central Penn's career-relevant programs are taught by supportive faculty with real-world experience. Accelerated 11-week terms and a year-round schedule enable students to complete a bachelor's degree in three years, if they go full-time during each term. Students enjoy small class sizes, hands-on learning and a variety of convenient course formats, including day, evening, in-person, online and hybrid classes.


Central Penn College's two locations in central Pennsylvania
Central Penn's Summerdale Campus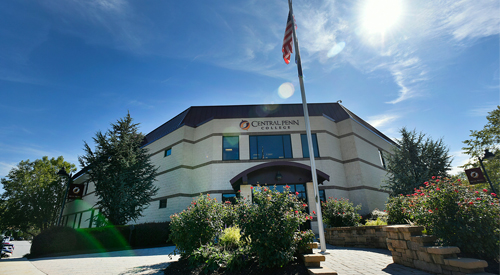 Central Penn College is located on a 58-acre campus in suburban Summerdale, Pennsylvania. The campus is just minutes from downtown Harrisburg, the state capital.
The campus is comprised of four academic buildings, the Charles "T" Jones Leadership Library, 34 student townhouses, six apartment buildings, the Health Sciences Building, the Underground Student Union, and the Boyer House.
Central Penn's Lancaster Center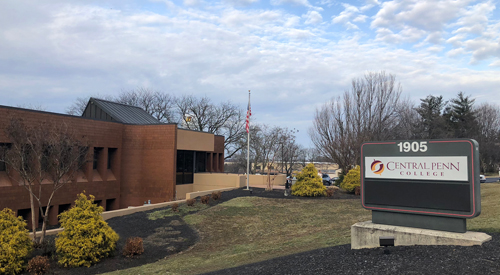 The Central Penn College Lancaster Center has been providing career-focused education to residents from Lancaster County and the surrounding areas since 2004. Located in Lancaster–at the intersection of Greenfield Road and Old Philadelphia Pike–the center has educated more than 1,200 students.
The Lancaster Center serves a population of students who primarily attend evening classes, Monday through Thursday.
Directions
Summerdale Campus Map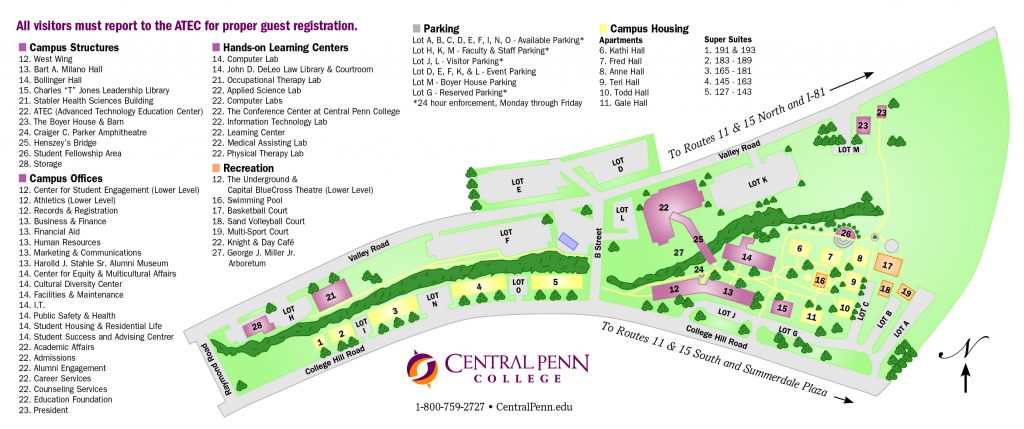 Outside Photography Request
Central Penn College understands that our picturesque campus provides an ideal backdrop for weddings, prom, and graduation photos. The college welcomes community members to visit our campus for photo opportunities but does require that a request be submitted to the college's Public Safety Department for approval in advance of the visit.
An online request can be accessed through the college's Hold Harmless Agreement .
Please contact PublicSaftey@centralpenn.edu for more info and to request access.
Practical Vision, Solid Values
CENTRAL PENN'S MISSION STATEMENT
Central Penn College opens opportunities to students from a variety of academic backgrounds by providing the education needed for employment and advancement in their fields.
CENTRAL PENN'S VISION STATEMENT
To become a leading resource for professional education in the central Pennsylvania region and beyond.
CENTRAL PENN COLLEGE'S CORE VALUES
Integrity denotes behaving in a manner that reflects honesty, ethical behavior and civility in personal and professional dealings.
Scholarship denotes Central Penn's emphasis on the development of students' minds through critical thinking, problem-solving and the use of intellectual resources.
Excellence denotes Central Penn's desire to provide holistic support for students' success in their academic pursuits and to equip them to recognize and realize opportunities for professional development.
Professionalism denotes Central Penn's pride in providing students with a well-rounded set of skills, such as critical thinking, problem solving, leadership, open communication and civility, which enables them to stand out in their respective fields.
Inclusivity denotes not only the rich diversity of Central Penn's student body, staff, faculty and administration, but also an attitude that embraces and celebrates every member of the Central Penn community and the valuable lessons they can teach each other.
Community Service denotes both Central Penn's purpose of creating a community where all students are welcome and passing on that sense of community so that students will be motivated to make a positive impact in the community, society and world in which they live.
Central Penn College Athletics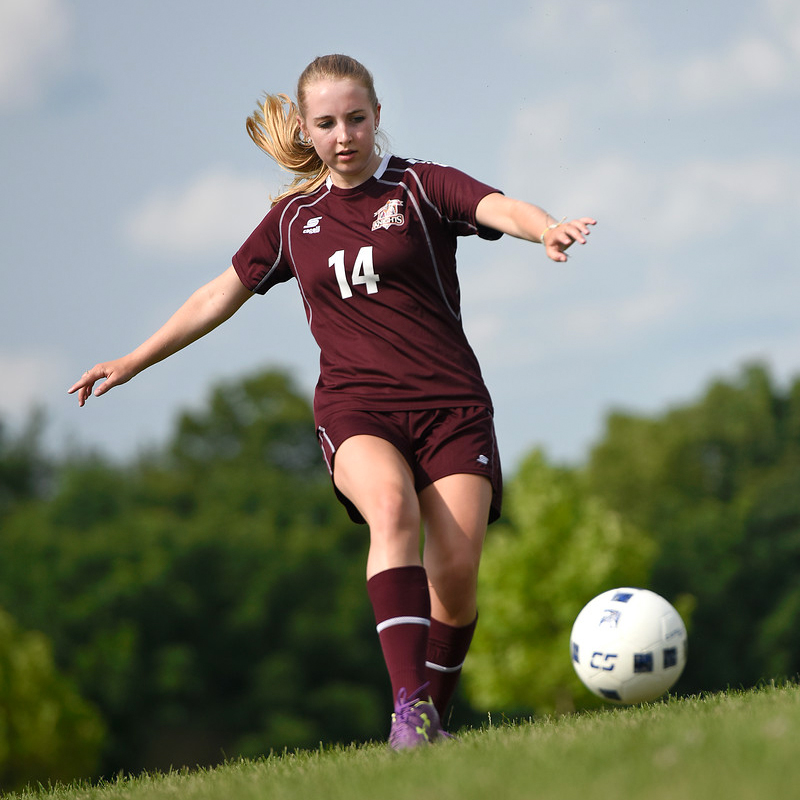 Central Penn College's athletic programs compete in the USCAA conference at the Division II level. They are members of the USCAA Eastern States Athletic Conference (ESAC). This offers student-athletes the opportunity to play at the collegiate level in men's and women's soccer, men's and women's basketball, women's volleyball, and baseball.
In 2022, Central Penn College secured landmark agreements to play collegiate sports in professional facilities including AA Harrisburg Senators' FNB Field for baseball and Skyline Sports Complex for soccer.
In recent years the Knights and Lady Knights have seen great success, frequently being ranked in the USCAA top 10 national rankings, qualifying for post-season play, competing against NCAA DI and DII opponents, and having games televised nationally on ESPN multiple times a year. The men's basketball team is a mainstay in the national tournament and a perennial national championship contender. Men's baseball last competed in the Small College World Series in 2017.
Innovative Leadership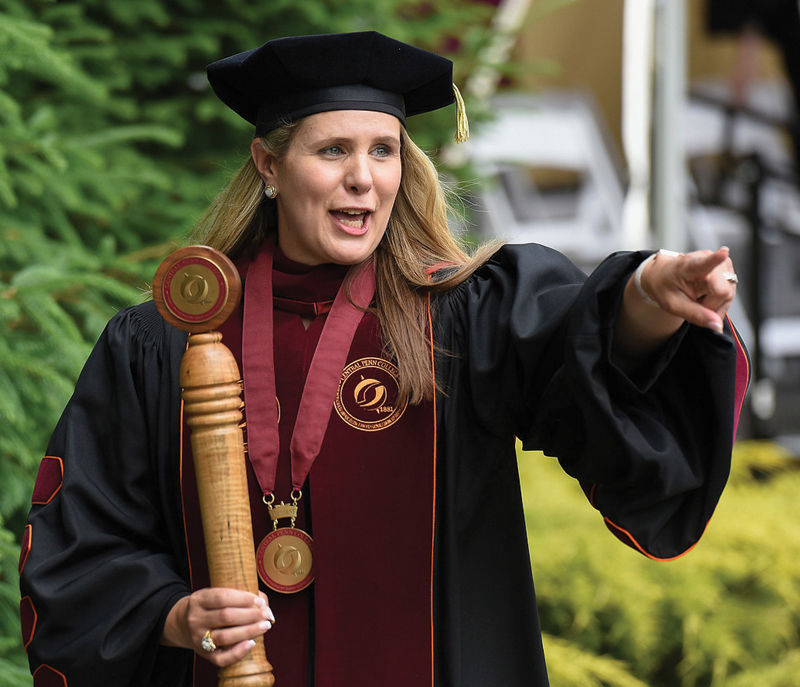 Dr. Linda Fedrizzi-Williams became the college's 10th president in June 2018. Making college more affordable is one of her top priorities. In February 2019, she announced that Central Penn College would offer free housing to new students during their first academic year, a savings of up to $5,800. In 2021, the housing scholarship was expanded to include up to four years of rent-free, on-campus housing (a $23,000+ value) for eligible students.
Central Penn and the Central Penn College Education Foundation also awards more than $1.5 million in scholarships annually to assist students and parents with the costs of attending college and attaining a certificate, diploma, or degree.
"A college degree is a pathway to a better career and a better life, and we are committed to creating an educational environment that empowers students, so they can achieve the highest levels of success," says Dr. Fedrizzi-Williams.
Learn More
Central penn College Board of Directors
Rooted in History
Central Penn College traces its history to 1881 and the Pennsylvania Business College that was located on Market Street in Harrisburg, Pa. For the past 140 years, the college has been providing career-focused education to the Central Pennsylvania region and beyond.
Learn more