KnightQuest 2020: Combat Hunger
Are you ready to combat hunger?
This year, the campus community will take on an issue that affects thousands of people in our area: Hunger and Food Insecurity.
During KnightQuest 2020, teams will earn points based on raising money, collecting donations and volunteering at food banks during the competition period, which runs from Sept. 21–Dec. 1. The team that earns the most points will receive a grand prize.
KnightQuest: Combat Hunger is an opportunity for YOU—students, faculty and staff—to join forces with your fellow Knights in support of Central Penn College's philanthropic initiative this year.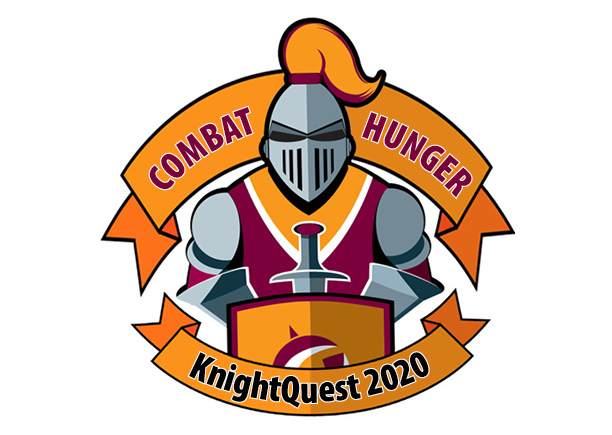 "Hunger is a growing problem in our communities. It affects too many people. But we can do something about it! I encourage the entire campus community to support and participate in KnightQuest 2020: Combat Hunger. By joining together, we can make a significant impact in the fight against hunger!"

– Dr. Linda Fedrizzi-Williams, President of Central Penn College
How does the KnightQuest challenge work?
It's similar to the original KnightQuest, which was a competitive fundraising program introduced a few years ago as a way to educate students on philanthropy while raising money in support of the Education Foundation.
But this new version of KnightQuest isn't limited to students, it's for the entire campus community.
How does the competition work?
Points are awarded based on collected food items, cash donations and volunteer hours.
1 food item donated = 1 point  
$1 raised/donated = 3 points 
1 hour of volunteering = 10 points (.5 hours would equal 5 points)  
How do I sign up?
Go here: GiveButter.com/KnightQuest
When does KnightQuest start?
The official start is on Sept. 21. The competition ends on Dec. 1.
How many people can be on a team?
Up to 10 people.
Who can be on my team?
Teams can be formed based on any number of factors:
Student clubs
Athletic teams
Majors/programs
Residential housing
Faculty/staff departments
Friends, classmates and co-workers
Anything else I need to know?
Every teams needs a team captain. Are you ready to lead your team in the fight against hunger?
There will be prizes awarded throughout KnightQuest. Nothing like healthy competition!
The Central Penn College community has a long tradition of helping others and giving back. Thank you for being a part of this tradition!
Downloadable forms