Occupational Therapy Assistant
Do you have it within your heart to help patients overcome challenges? With a degree in Occupational Therapy Assistant, you can combine both your head and your heart to teach patients techniques for living life to the fullest and maximizing their independence. You truly have the power to change lives…or give people their lives back.
You will gain a deeper understanding of the functioning of the human body, including sensorimotor, psychosocial, and cognitive elements. You will be able to demonstrate clinical reasoning skills, treat and screen using appropriate procedures under the guidance of an occupational therapist…. And more. You will do it all with compassion and empathy.
And one of the best things is, our occupational therapy assisting program is the only one in the area. With our accelerated program, you can get through school in 24 months or less. Professors are acting clinicians, out in the field doing what they teach, so your training will be up-to-date, relevant and top-notch.
GRADUATION RATES

COST OF ATTENDING THE OTA PROGRAM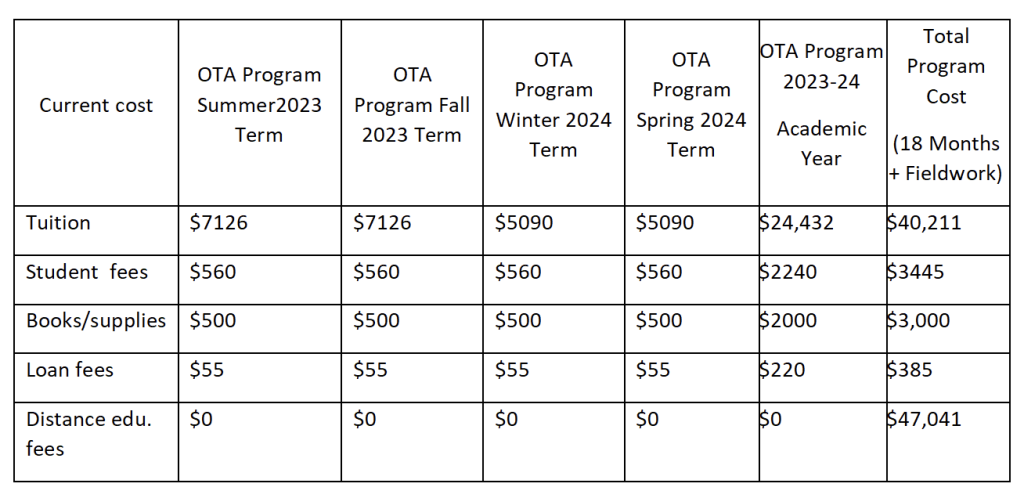 Click here to view our exam information from NBCOT.
Disclaimer: Central Penn College cannot guarantee clinical placements for students who are not fully vaccinated against COVID-19.
OCCUPATIONAL THERAPY ASSISTANT (AAS) ACCREDITATION
Occupational Therapy Assistant program is accredited by the Accreditation Council for Occupational Therapy Education (ACOTE), 6116 Executive Boulevard, Suite 200, North Bethesda, MD 20852-4929., (301.652.6611), WWW.ACOTEONLINE.ORG.
Click here to view Central Penn College's Admissions Requirements
GRADUATES OF THE PROGRAM WILL BE ELIGIBLE TO SIT FOR THE NATIONAL CERTIFICATION EXAMINATION FOR THE OCCUPATIONAL THERAPY ASSISTANT, ADMINISTERED BY THE NATIONAL BOARD FOR CERTIFICATION IN OCCUPATIONAL THERAPY (NBCOT®). AFTER SUCCESSFUL COMPLETION OF THIS EXAM, THE GRADUATE WILL BE A CERTIFIED OCCUPATIONAL THERAPY ASSISTANT (COTA). IN ADDITION, ALL STATES REQUIRE LICENSURE TO PRACTICE; HOWEVER, STATE LICENSES ARE USUALLY BASED ON THE RESULTS OF THE NBCOT CERTIFICATION EXAMINATION. A FELONY CONVICTION MAY AFFECT A GRADUATE'S ABILITY TO SIT FOR THE NBCOT CERTIFICATION EXAMINATION OR ATTAIN STATE LICENSURE.
Program offered
On-ground
Courses
natomy and Physiology
Fundamentals of Occupational Therapy
Pathology and Function
Occupational Therapy in Geriatrics
Careers you can pursue
Occupational Therapy Assisting
You will succeed if you are...
Patient
Empathetic
Caring
Possess Great Dexterity
86% of our graduates were employed in their chosen field or continuing their education within one year of graduation.
* Based on graduates whom we have information during a one-year period from 2020-2021.