Award-winning communications professor and media ethicist Michael Lear-Olimpi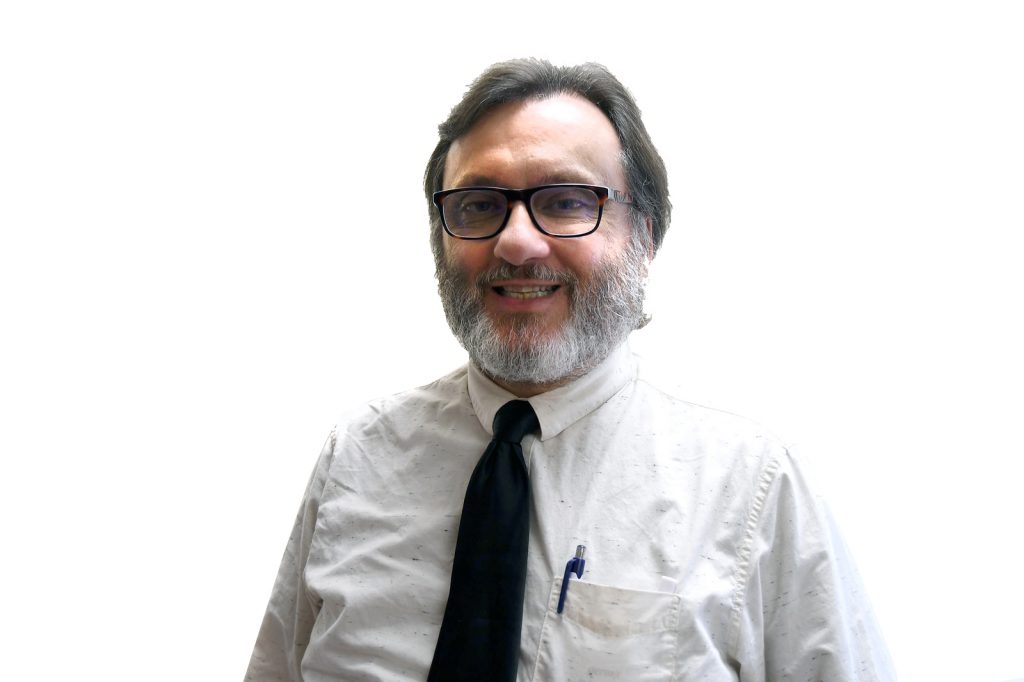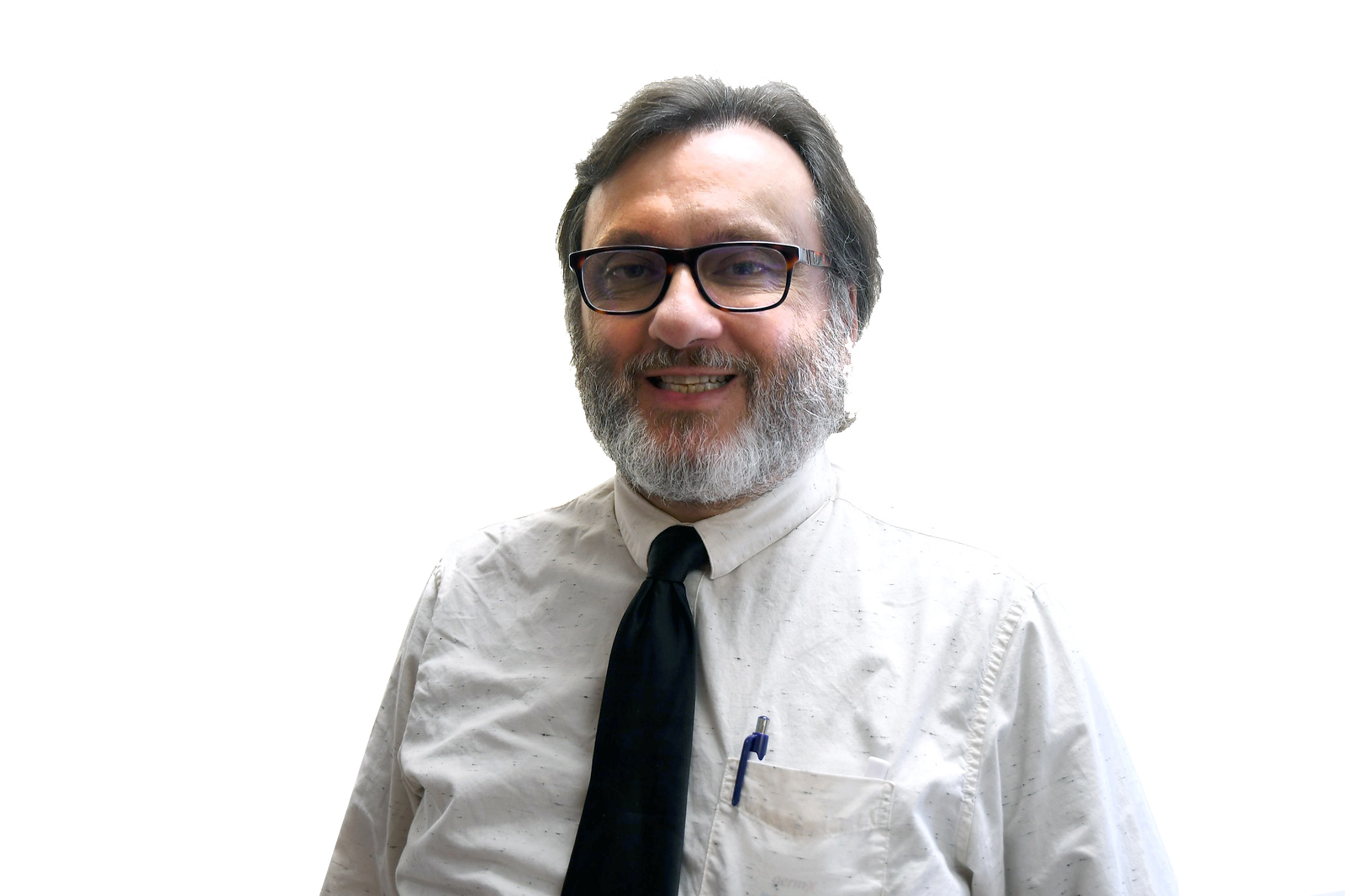 Award-winning communications professor and media ethicist Michael Lear-Olimpi felt like he'd finally made it when he was hired to write for the PHILADELPHIA INQUIRER, the third-longest continuously operating daily newspaper in the nation, and a prestigious publication that has garnered more than 20 Pulitzer Prizes. 
While that Inquirer stint represented a personal and professional pinnacle for him, all told, this popular professor around campus has been involved in journalism in a variety of roles for more than 40 years and has been teaching for about 25.
"Yeah, that's a long time," he said. "When I see it in writing, I do a reality check by counting the years on my fingers. Recently, I'm surprised it's been that long and, sometimes, that I can still count on my fingers."
As a reporter, he has covered everything from agriculture and government, to police and school boards, for The (Lebanon, Pa.) Daily News and the Lancaster papers. He reported on religion – though briefly, during graduate school – for The Pittsburgh Post-Gazette, another of the nation's oldest papers.
At Lancaster Newspapers Inc., he was primarily a reporter but also an editor, photographer, manager and journalism educator, in the last role, for high-school students.
"I never met him, but I took the advice that I often heard former Inquirer editor Gene Roberts gave reporters about how to tell stories in newswriting: 'zig when the others zag,'" Lear-Olimpi said.
His love of helping people learn blossomed at the Lancaster papers, where he built a high school student-correspondent network in which teens reported for a weekly section of the papers on happenings in their school districts. He interviewed, hired and paid the students, and held regular Saturday training workshops and contests with prizes for the young writers – one of few such programs of its type at that time.
In the '90s, Lear-Olimpi took his skills, and interests in teaching, to specialty magazines in healthcare and in business. He worked at those publications as managing editor and chief editor, and established internship programs for each of them.
As the new century established its footing, he helped build an online editorial-content section for a business-and-logistics website, and later branched out as a freelancer to write and edit website news on health, business and law for a variety of outlets. He founded a subscription newsletter and companion website dedicated to electronic discovery prior to trials for a major legal-information publisher.
Lear-Olimpi is one of five children. He was born and grew up in the Coal Region of Schuylkill County, steeped in his strong Italian and Welsh-Pennsylvania Dutch heritages, and in the traditions and legacies of the area. He is proud to tell anyone that he grew up in the town where cable TV was invented, and where his love of journalism began.
He earned his master's degree in journalism from Temple University in Philadelphia, where he lived for about 20 years, and a bachelor's in English, in writing, from Penn State. He was a graduate assistant at Temple, where he taught students and faculty members how to use the popular newswriting software at the time, and advised the student graphics-arts and publication lab.
He reengaged in classrooms by teaching English composition at Camden County College, in the Philadelphia suburb of Blackwood, New Jersey, in the early '90s, and in the early 2000s by teaching journalism at Temple. He also taught English comp and public speaking at Saint Joseph's University.
He continued in education – mainly writing – when he returned with his family to Harrisburg, by teaching English composition and journalism at Penn State Harrisburg; and English comp at Elizabethtown College, Lebanon Valley College and Shippensburg University. The writing and editing continued, too, with his own editorial-services company.
While at Elizabethtown, he revived the school's writing center and served as its director while teaching intro and advanced English composition at the college, and also worked as writing consultant for Temple's graduate-level social-work program in Harrisburg. He helped implement a hired-and-paid tutor system in Etown's writing center.
He started at Central Penn as an adjunct instructor in 2008.
Lear-Olimpi also enjoys writing poetry (he co-founded the Almost Uptown Poetry Cartel of Harrisburg), reading, analyzing movies, walking in the woods, studying Pennsylvania history, taking photographs and helping to lend his expertise by judging writing contests.
He loves listening to the music of Paul McCartney and many other artists; binge-watching horror, mystery, drama and "Star Trek"; and is a Beatles aficionado.
He has a son, Roman, who he readily admits is "the love of my life."
One of his favorite quotes is, "Tell the truth and run," which he attributes to his journalism hero, George Seldes. It is a fitting mantra for his role on the Professional Standards and Ethics Committee of the Society of Professional Journalists.
"But I never run from students, even though I always tell them the truth," he said. "I'll run toward them and for them, but never away from them."
At the college, Lear-Olimpi serves on the President's Commission on Diversity and Inclusion, as co-chair of the Anti-Racism Advisory Council, and as a member of the Institutional Diversity and Equity Committee, along with helping lead The Knightly News Club as co-adviser and blog editor.