Health Science graduate Jimmy Cieri
Jimmy Cieri is a member of the first graduating class of health science majors from Central Penn College. The Enola resident, along with his fellow classmates, were awarded their degrees in May 2019.
Cieri began his Central Penn experience in the spring of 2017. He works at Harrisburg Hospital as a cardiac telemetry monitor technician, a position he's held for the past four years.
Now, with a bachelor's degree in health science, he is looking to enter an advanced program and become a physician assistant.
We caught up with Cieri recently via email and he talked about his background and his experience at Central Penn…
Learn more about Health Science!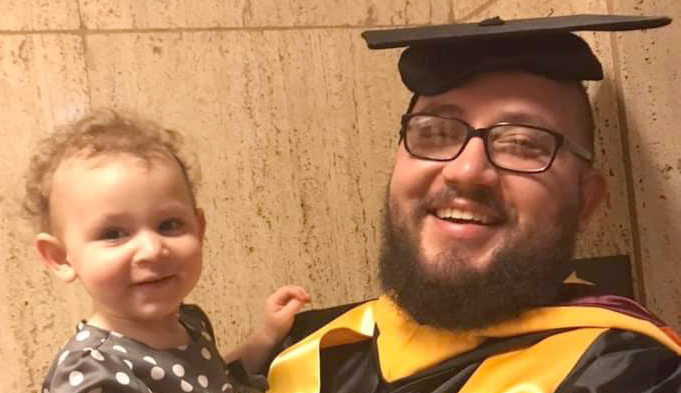 Interview with health science graduate Jimmy Cieri
Central Penn: Can you talk about your reasons for pursuing a health science degree?
JC: One of the biggest drivers for pursuing a health science degree was my eagerness and passion for helping people. I knew from a very young age that I wanted to be a healthcare professional, and the pursuit of a health science degree gives me the best opportunity to help people. I think this field will continue to challenge me intellectually and professionally. It also will further my ability to help people and patients.
Central Penn: What made you choose Central Penn?
JC: Central Penn College is so close to my home. I live in Enola and passed the signs for the college almost every day. I chose Central Penn because it afforded me the best opportunity to complete my degree while still working full-time.
Central Penn: What was your Central Penn experience like?
JC: I think my experience at Central Penn was more unique than usual. I started with online classes while my wife was pregnant with our first and only child (so far). So by the third term, I was working full-time, attending college full-time, all with a newborn baby at home to care for. It made getting homework done on time a challenge, but I did manage to graduate summa cum laude, so I had to work extra hard, and with very little sleep most nights.
Central Penn: What were some of your favorite classes and/or professors?
JC: I am a person who absolutely loves the sciences. I had a wonderful professor, Dr. Tolani Adebanjo, who had that same passion and love for science, so it made learning those subjects so much easier, and actually made them enjoyable to learn. I think Microbiology and Pharmacology were two of my favorite courses. I loved growing and working with different strands of bacteria, and the various tests we performed in our labs.
Central Penn: What would you say to students who were thinking about pursuing a health science major at Central Penn?
JC: I would tell them they need to have a passion for the sciences and the study of the human body. It's obviously very heavy in those subjects, but if you are an aspiring healthcare professional, this degree will catapult your career with the invaluable information you learn. The health science program definitely challenges you to think outside the box and gives you crucial tools to become the best healthcare professional you can be. I think if you set your mind to it, you can achieve anything, and never underestimate your ability to learn something new and always push yourself to do better.
Central Penn: Is there anything else you would like to add about attending Central Penn College?
JC: I can't say enough about the personable experience I had at Central Penn. From each professor, to my advisor, to the program director, everyone made you feel important, more than just another name on a paper to them. I think everyone involved with this degree has a passion to see people grow as individuals and professionals, and it is clear by how they conduct themselves and how they treat everyone with respect and care. I can't say enough about how much I loved my time at Central Penn, and how much I cherished all my time with everyone I had the pleasure of getting to know while I was there.
Interested in learning more about the Health Science program at Central Penn College? One of our dedicated admissions counselors would love to chat with you.