Catching up with Social Media Coordinator and graduate Morgan Littleford '19
At the 2019 commencement, Morgan Littleford received the Student Leadership Award. She was recognized for not only serving as SGA president during the 2017–2018 academic year, but also launching several student-led initiatives and programs aimed at improving campus life.
A Corporate Communications major, she grew up in Oxon Hill, Md., and graduated from nearby National Christian Academy.
Littleford is currently Associate Director & Social Media Coordinator of Project Purpose and host of the I Have A Lot of Opinions about Everything Podcast.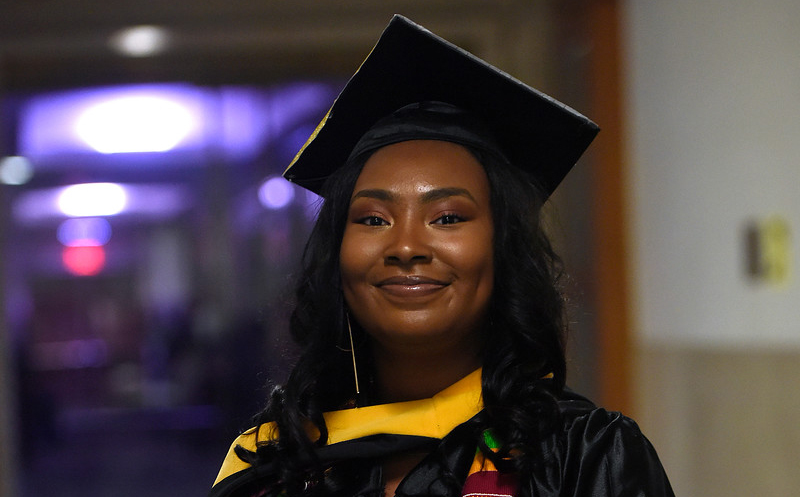 We spoke with her via email shortly after she graduated…
What made you interested in attending Central Penn?
One of the things that drew me into Central Penn was the fact that I could graduate early. I thought that was so cool because that's not something you typically hear a college offer. Another thing that drew me in was the smaller class sizes because I learn better in that type of environment.
You're a Corporate Communications major. Can you talk about your experience in that program?
What led me to Corporate Communications is that I wanted to inform people about what's happening in the world. With a Corporate Communications degree, I can do that on a larger or smaller scale… depending on if I work for a corporate business or a news outlet. I'm able to inform and entertain people, and that's something I always wanted to do.
I truly enjoyed being in my program. I learned so much about my field and I learned that I really enjoy writing. I also liked the fact that we are one of the smaller majors because I got a chance to interact with my classmates and professors on a personal level, which made my experience that much better.
You were SGA president and involved in many activities. Can you talk about your experience as a residential student?
My experience as a residential student was fun. I was able to interact with my peers and do more activities that other students couldn't. I was able to become a Resident Assistant. As an RA, I was able to better understand the needs and concerns of other students, which helped me a lot as SGA president. It also gave me a chance to work on my leadership skills.
What are some of your favorite memories at Central Penn?
ML: One of my absolute favorite memories was the Women's Leadership Retreat, which is offered annually. I was able to talk to female students whom I wouldn't typically interact with on campus, make new friendships and create stronger bonds with students and faculty and staff. That weekend I had the opportunity to learn more about myself and what it takes to be a woman leader. My favorite memory from that trip was singing "Party in the U.S.A." with everyone including faculty and staff. This retreat is something I won't forget.
What would you say to students considering Central Penn College?
If someone were thinking about coming to Central Penn, I would tell them to go for it. Central Penn gives you hands-on experience, a sense of community, and you have the chance to become a better person. The skills I learned at Central Penn are skills that I will be using for the rest of my life and without Central Penn who knows if I would have ever developed them. Central Penn College is a great place for you to become the person you want to be.