Central Penn College and Members 1st present First-Ever Concert on Summerdale campus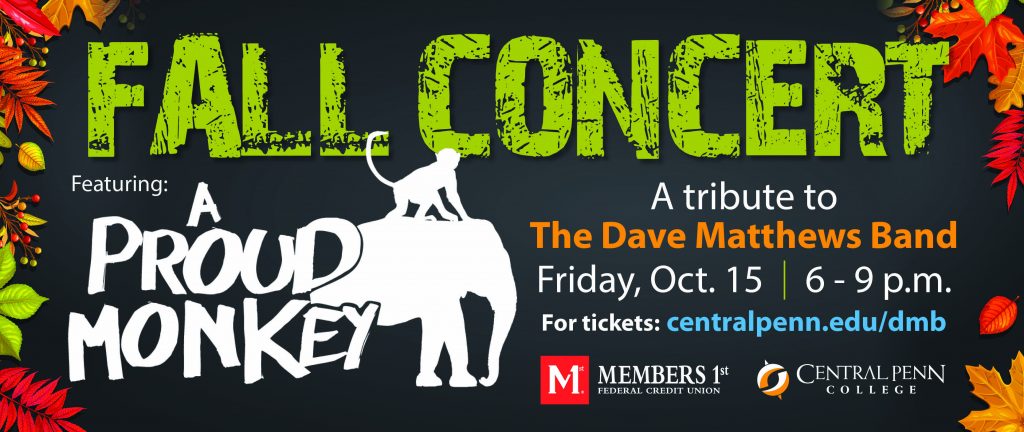 Central Penn College (CPC) is pleased to partner with Members 1st Federal Credit Union on presenting the first-ever concert on the college's Summerdale campus. The event will feature A Proud Monkey––the East Coast's premier Dave Matthews cover band––on Friday, Oct. 15, 6–9 p.m.
Founded in 1881, Central Penn College will celebrate its 140th anniversary, with multiple events and activities, as part of the institution's Magical Moments Homecoming Weekend, Oct. 15–16.
"The concert is a great way to kick off Homecoming Weekend," said Michael Fedor, Vice President of Advancement and Strategic Initiatives at the college. "We are excited that Members 1st––who has been a long-time supporter of the college––is sponsoring this signature event on our Summerdale campus."
"For more than 70 years, supporting our local, community partners has been a fundamental part of our core values," says Members 1st Chief Experience Officer Mike Wilson. "We are thrilled to play a part in the 140th anniversary celebration of Central Penn College, and we appreciate everything the institution does for the Central PA region."
Members 1st is a full-service financial institution serving its members, associates and communities. Through its network of almost 60 branch locations across Central Pennsylvania, as well as its robust digital banking and call center channels, the credit union is focused on a personalized member experience. To learn more about Members 1st, visit members1st.org
In addition to the concert, Homecoming Weekend features an opening reception to celebrate Central Penn College's 140th year and the graduating classes of 2020 and 2021; an open house for prospective students; the annual Fall Harvest Festival; an outside screening of the movie Harry Potter and the Sorcerer's Stone, along with a bonfire and costume contest. The full schedule of events is listed below.
About the Band A Proud Monkey is often described as "second only to the real thing." The group is a collective of the greater Philadelphia area's most in-demand studio and live musicians. After performing thousands of shows throughout the country, they've been heralded as the East Coast's top Dave Matthews tribute band. Tickets for the outside concert are $20 and are available here. With promo code KNIGHT, attendees can save $5 off general admission tickets, if purchased by Oct. 1.
Magical Moments Homecoming Weekend – Schedule of Events
Friday, Oct. 15
Saturday, Oct. 16

Open House, ATEC Building, 9–10:30 a.m.
Fall Harvest Festival, Central Penn Campus, 10 a.m.–2 p.m.
Outdoor Movie: Harry Potter and the Sorcerer's Stone, Campus Fellowship Area, 6–9 p.m. There will be a bonfire, s'mores, snacks and Harry Potter-inspired costume contest, with fun prizes.