Central Penn College Celebrates 140th Anniversary with Magical Moments Celebration
In honor of its 140th anniversary, Central Penn College will host a Magical Moments Homecoming Celebration with multiple events scheduled throughout the Oct. 15–16 weekend.
"The college is throwing a giant birthday party, and the entire community is invited," said Dr. Linda Fedrizzi-Williams, President of Central Penn College. "From an opening night concert to the annual Fall Harvest Festival and a Harry Potter movie, there is something here for just about everyone."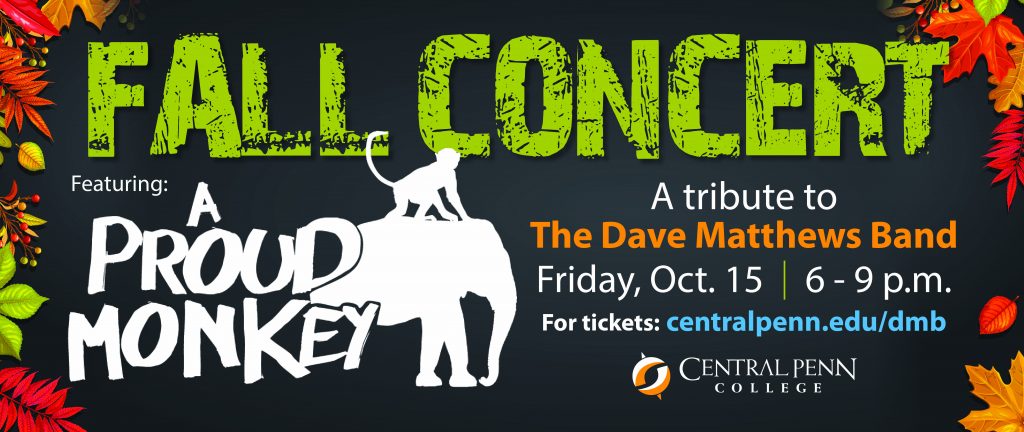 The college's 2021 Homecoming Celebration features a wide variety of family-friendly activities, most of which are either free or low-cost. The weekend kicks off on Friday afternoon with the 140th Year Celebration and Graduate Toast followed by the first-ever campus concert. The event––presented by Members 1st Federal Credit Union––features A Proud Monkey, the premier Dave Matthews tribute band on the East Coast. Food and beverages will be provided Al's of Hampden and Pizza Boy Brewing, which are both owned by Central Penn College alumnus Al Kominski.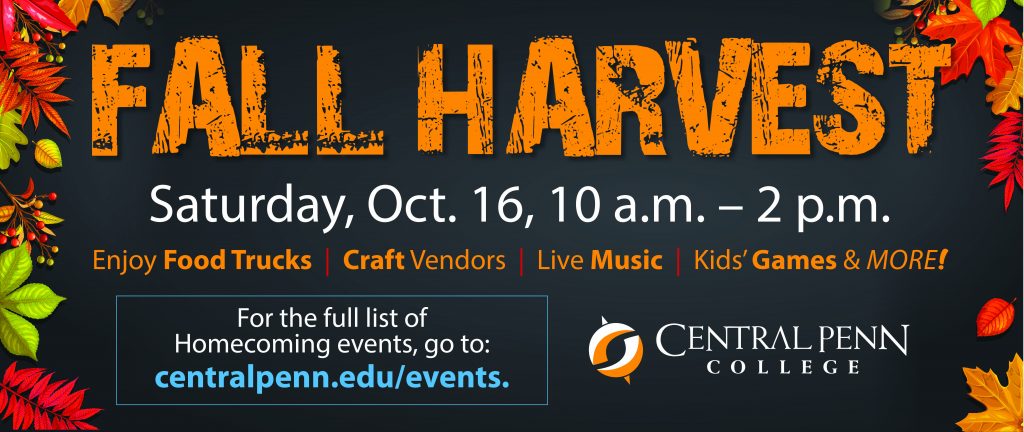 Saturday includes an open house for prospective students, Fall Harvest Festival, a Central Penn College soccer game, and an outside screening of Harry Potter and the Sorcerer's Stone along with a costume contest and bonfire. Sunday begins with a spiritual fellowship service followed by an opportunity to have brunch with the Central Penn College President Fedrizzi-Williams.
Vendors interested in participating in the Fall Harvest Festival can apply here. The full schedule of events is listed below.
Alumni Gathering
"We are looking forward to welcoming back our alumni members, while also sharing our beautiful campus with the larger community," said Michael Fedor, Vice President of Advancement and Strategic Initiatives at Central Penn.
The college has nearly 13,000 living alumni, with over 8,500 members residing within 50-mile radius of the Summerdale-based institution.
"For most of our alumni, it's just a short drive to campus," said Fedor. "And with this year's schedule of homecoming activities, there are multiple opportunities for our grads to reconnect and re-engage with not only their alma mater, but also their fellow alumni. The 2021 Magical Moments Homecoming Celebration will be one not to miss!"
Founded in 1881 as a small business school in downtown Harrisburg, Central Penn College has grown and evolved since those humble beginnings nearly a century-and-a-half ago. In 1970, the career-focused college moved across the Susquehanna River to a 58-acre campus located in the suburban community of Summerdale.
The past five decades have been marked by innovation and expansion, as the college added numerous degree and certificate programs in the areas of healthcare, accounting, information technology, legal studies and criminal justice. In 2021, Central Penn has rolled out 10 short-term, certificate programs to meet the growing demand for targeted educational offerings that lead to career change and/or career advancement.
"Homecoming for the Central Penn family––alumni, students, employees and the greater community––is about celebrating our memories and making new ones," said President Fedrizzi-Williams. "I encourage all of our alumni and the wider community to join us for this year's Magical Moments celebration!"
Friday, Oct. 15
Saturday, Oct. 16