Central Penn College Launches New Medical Billing & Coding Certificate
Central Penn College will launch an 18-credit Medical Billing & Coding Certificate Program starting in the winter 2021 term. Jobs in this healthcare field are expected to grow 11% through 2028, according to the Bureau of Labor Statistics.
"Medical coders play a critical role in the healthcare profession," said Anne Bizup, interim dean of health sciences at the college. "They ensure that medical practices and providers are paid for the work they do––and paid in a timely manner––from insurance companies and government programs, such as Medicare."
A New Career in Just 9 Months
The new 9-month program will be available as an online-only program starting in the winter 2021 term, which begins Jan. 4. Taking two courses a term, students can complete the program in three terms. For example, students enrolling in January can be finished by September.
Central Penn College operates on an accelerated, year-round schedule of quarterly, 11-week terms. The college offers master's, bachelor's and associate degree programs, as well as a growing number of certificate programs.
"In today's uncertain economy, many people are looking for career-focused programs that deliver a powerful result in a short amount of time," said Dr. Krista Wolfe, vice president of academic affairs. "And the Medical Billing & Coding Program does exactly that!"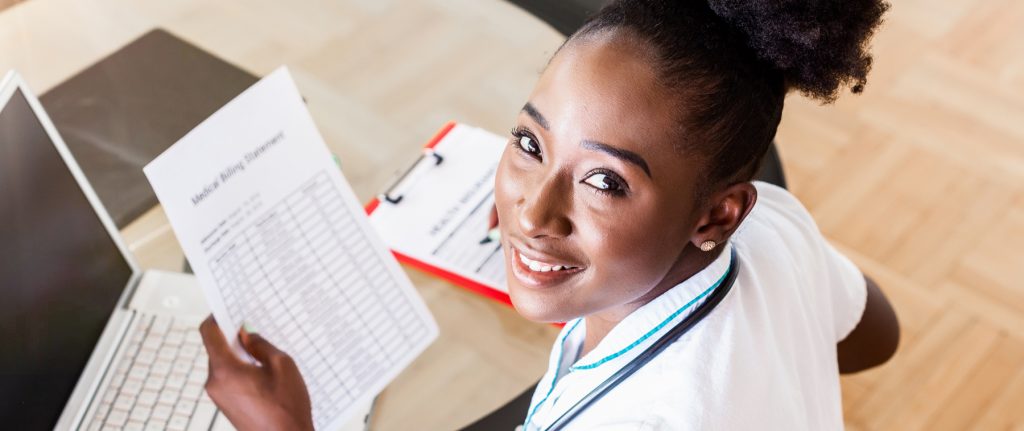 Rewarding Profession
Medical coders (certified and non-certified) earn an average salary of $54,890, up 5.8% from last year's average salary of $51,889. Medical coders without certification earn approximately $42,015 per year while certified professional coders on average earn $55,923 annually—33% more than their non-certified colleagues, according to the American Academy of Professional Coders.
"People who thrive in this field are problem solvers. They're detail-oriented… they're results-driven… and they enjoy working in a professional environment," said Wolfe, who has taught at the college since 2006.
Duties and responsibilities of medical coders include:
Recording and processing patient data including treatment records, insurance information, bills and payments.
Setting up payment plans for patients.
Organizing and verifying patient records, bills and statements.
Coding patients' diagnoses and requesting payment from insurance companies or individuals.
Coursework
Required courses for the Medical Billing & Coding Certificate Program include:
Medical Terminology and Pharmacology
Essentials of Anatomy & Physiology I
Essentials of Anatomy & Physiology II
Medical Insurance
Diagnostic Coding
Procedural Coding
"For more than 135 years, Central Penn College has been an educational resource for our local and regional community," said Dr. Wolfe. "And we will continue to offer innovative programming, such as this new Medical Billing & Coding Certificate Program, for those seeking a career-focused education." To learn more about the Medical Billing & Coding Program, go to: www.centralpenn.edu/mbc.