Central Penn College Marks Black History Month with Student Awards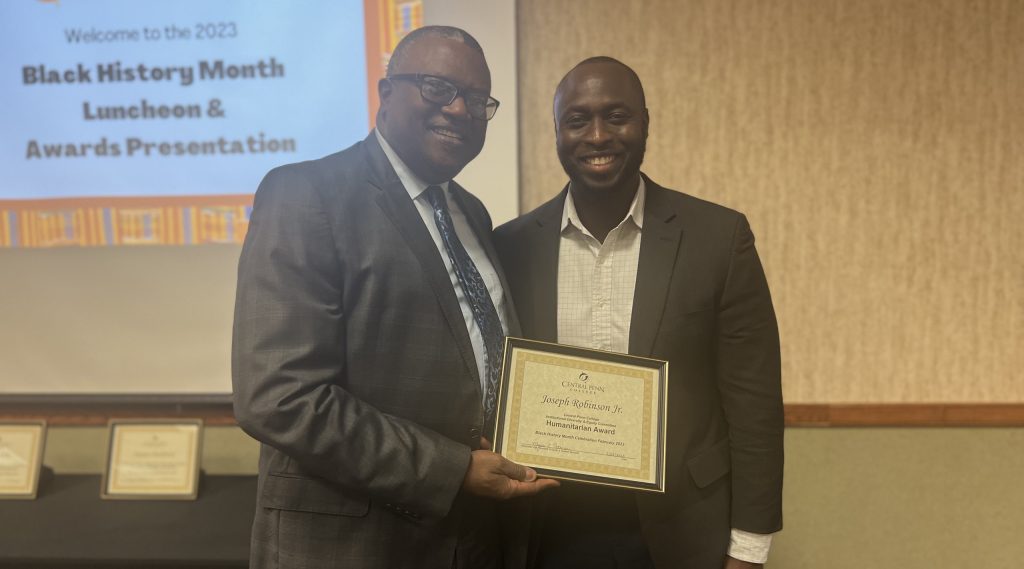 Quoting words of wisdom from Maya Angelou, DJ Khaled, Theodore Roosevelt, Horace Mann, Eminem and other cultural icons, Joseph Robinson, Jr. of Harrisburg inspired an audience of students, faculty and staff to action at Central Penn College's Black History Month celebration today.
He pointed out that the theme of "Resistance" is best personified by those with resilience –those who faced adversity and triumphed.
He spoke of heroes such as 6-year-old Ruby Bridges in a New Orleans elementary school, NASA scientist and Super Soaker inventor Lonnie Johnson, and athletes like Jalen Hurts, Patrick Mahomes and Central Penn College's own Tahniyaah Jackson, who was selected to have her jersey displayed in the National Women's Basketball Hall of Fame.
The first in his own family to go to college, Robinson encouraged his audience to maximize their college experience to change the trajectory of their lives, and of their family's lives, by "daring greatly."
He quoted Roosevelt's classic words, "The credit belongs to the man who is actually in the arena, whose face is marred by dust and sweat and blood, who strives valiantly….who at best knows in the end the triumph of high achievement, and who, at worst, if he fails, at least fails while daring greatly."
He also quoted the stirring lyrics of the Black National Anthem, composed in 1900 by James Weldon Johnson and sung in the beginning of the program, which calls upon everyone to "Lift every voice and sing, 'til earth and heaven ring." He also recalled the words of Horace Mann, who said, "Be ashamed to die until you have won some victory for humanity."
Central Penn College then honored Robinson with their prestigious Humanitarian Award. Robinson serves on the board of Central Penn College and its Presidential Commission on Diversity and Inclusion, and is also President and founder of the Martin Luther King, Jr. Leadership Development Institute. He once served as Executive Director of the Southcentral PA Sickle Cell Council.
Author of 7 Leadership Imperatives from a Wild Man, Robinson also worked at the Pennsylvania Department of Transportation for 26 years.
He appears frequently on local talk and news shows, including Smart Talk and PA Newsmakers.
Central Penn College bestowed an honorary doctorate of humane letters on him in 2016. He is also an ordained deacon of The Greater Zion Missionary Baptist Church.
Central Penn College also celebrated these accomplished students at the luncheon, with the Central Penn College Foundation awarding them $500 scholarships:
Rosa Parks Award for Academic Excellence: Briana Riley
Dr. C. Delores Tucker Award for Community Service: Amson Charleston
Dr. Martin Luther King Award for Leadership: Nate Jean-Philippe
Reverend Dr. Olin Harris Award for Character: Quasemah Allen-Hawkins
Bayard Rustin Award for Social Justice Advocacy – Hassani Karemera
Ruby Bridges Award for Positivity – Seth Parr