Central Penn College Opens Advancement Office
Central Penn College (CPC) celebrated the official opening of its Advancement Office with members of the West Shore Chamber of Commerce (WSCC) in a ceremony outside the historic Boyer House on the college's Summerdale campus.
"Establishing the Advancement Office was a goal of mine since becoming president of the college in 2018," said Dr. Linda Fedrizzi-Williams. "This new office will build strategic relationships with community and business partners, support the institution through fundraising initiatives, and serve as a hub for innovation internally for the college as well."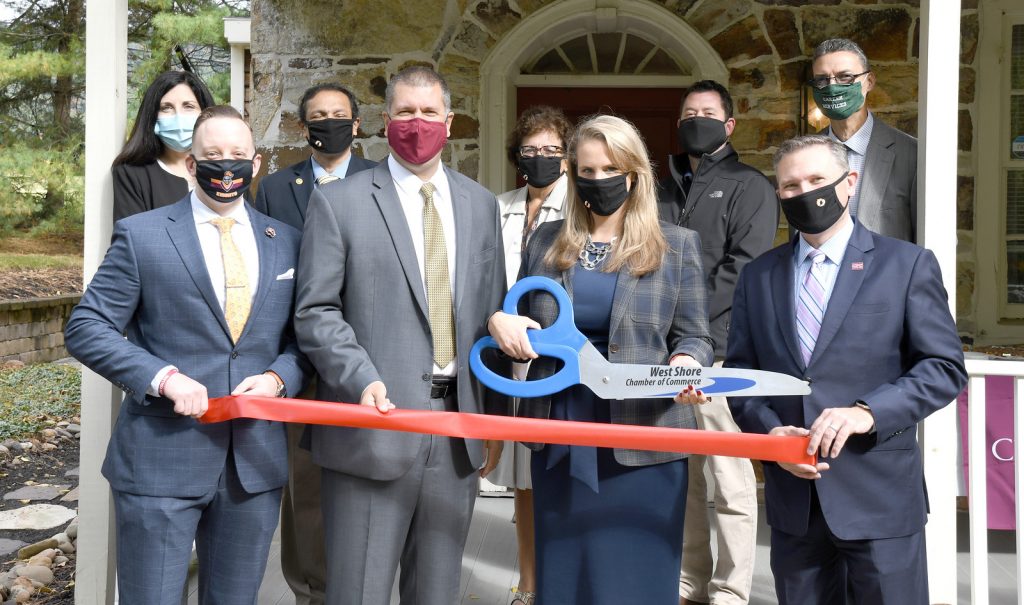 "We are pleased to have Central Penn College as a member of the West Shore Chamber of Commerce for over 20 years," said George M. Book, Jr., WSCC president and CEO. "The creation of an Advancement Office shows the college's commitment to serving the future needs of its students, faculty, facilities and communities. We applaud Central Penn's efforts and look forward to an even brighter and more successful future for the college." Leading the Advancement Office is Michael Fedor, who was named Vice President for Advancement and Strategic Initiatives in April. Since joining the college, he has hit the ground running, launching the Corporate Education Program… revamping the business and community Partner Program… and instituting the low-cost Cultural Enrichment Program, along with the non-credit Telehealth course for healthcare workers.
Previously, Fedor was the founder of Bullmoose Works, a Harrisburg-based business consultancy. He has an extensive background in executive coaching, government relations, communications and education.
"I look forward to building on the legacy that the college has established in its nearly 140-year history as a valued solutions provider for our local and regional communities," said Fedor, who will manage a team of 10 employees in the following three departments:
Center for Career Services and Development
Department of Advancement and Charitable Giving
Department of Community Relations and Partnerships
Book praised Central Penn College for its impact on the local community, including the organization he heads: "We at the Chamber have had previous employees, as well as past and current Board members, who have received their education from Central Penn College. We value this partnership with your organization and support your continued growth and involvement in our communities."
"Central Penn College has a powerful story to tell, and the Advancement Office will help tell that story in new and exciting ways," said President Fedrizzi-Williams.
In addition to Fedrizzi-Williams, Fedor and Book, others in attendance included:
The College's Advancement Office
Curtis Voelker, Director of Advancement & Program Relations
Hector Ortiz, Senior Director, Community Engagement and Partnerships
Steve Hassinger, Dean of Career Services & Development
Mary Beth Fisher, Education Foundation and Alumni Support Coordinator
West Shore Chamber of Commerce
Board President Ethan Stone
Past Board President Sam Jones