Central Penn College's Information Technology intern is a study in resiliency
As an intern for Central Penn College's Information Technology department, Garrett Horst stays very busy. Working 12 hours a week, he replaces batteries and hard drives in laptops and computers. Then he installs the latest software and programs, including Windows 10, Office 365, Adobe and internet browsers.
As Horst goes about his tasks, his guide dog Kent rests at his feet. Blind for more than a decade, Horst uses a JAWS screen reader, when doing installs and responding to emails.
It wasn't always this way.
Flashback to 2011. A senior at Susquenita High School, Horst was in the vo-tech program and focused on being a welder. "I absolutely loved it," he says.
He was intent on following in the footsteps of family members who worked in the construction and manufacturing industries. That was the plan. But then he developed a rare kidney disease, which rapidly resulted in blindness.
College… A New Beginning
In 2019, he enrolled in Central Penn College. He chose CPC for the "small, local atmosphere." Originally, he planned on attending another institution, but "felt like a number there," he said.
At CPC, he's done exceedingly well, making the Dean's List all but one term. "I shocked myself," said Horst, with a laugh, admitting he wasn't the best student in high school.
He enjoys database management, working with SQL and Python languages. He gives a shout-out to IT Instructor Joe Oberto and Adjunct Instructor (and alum) Travis Scotto for their teaching acumen. In addition to taking classes and his internship, he works as a third-shift custodian at his alma mater, Susquenita High School.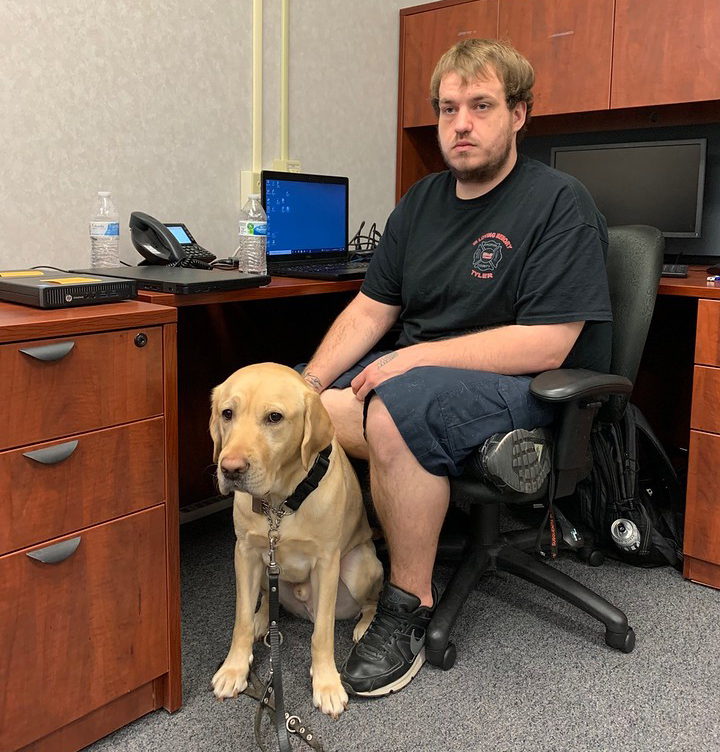 The Gap Years
The eight-year journey from Susquenita to Central Penn was a tough one for the Duncannon native. He waited six years for a kidney transplant and underwent dialysis for 12 hours a night at home during that time. "It wasn't fun," says Horst, who has a talent for understatement.
Finally, after a long search, a donor was found. While recovering from transplant surgery, he had two goals: "I want to get a guide dog and go to school."
He's accomplished both of those objectives, and at his current pace, he's on schedule to graduate in June 2022 with a bachelor's degree in information technology.
Central Penn Knights are known for their resiliency, and Garrett Horst embodies that quality to the nth degree!