Central Penn Partners with UPMC for First-Ever Campus Clinic
Central Penn College, in partnership with UPMC, is pleased to announce the opening of the first-ever healthcare clinic on its Summerdale campus. Beginning on Thursday, Sept. 24, the clinic will provide a variety of healthcare services, including basic care and COVID-19 test scheduling, to Central Penn students, faculty and staff.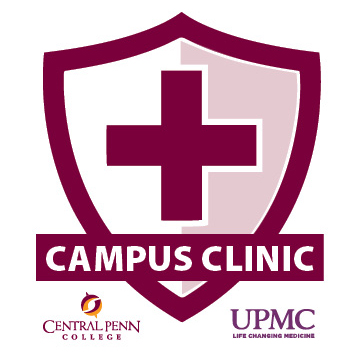 "In a time of a global pandemic, accessible healthcare is more important than ever," said Romeo Azondekon, vice president of Student Services at the college. "For the first time in Central Penn's history, our students will have access to an on-campus healthcare clinic. We thank the team at UPMC for partnering with the college on this truly historic initiative."
"We at UPMC Pinnacle Medical Group are excited regarding the growing collaboration with Central Penn College," said Dr. Robert Nielsen, president and CEO, UPMC PHMG. "The combination of our onsite clinic and virtual urgent care will provide students cost-effective access to timely care. We look forward to this as a building block for many collaborative efforts with Central Penn College in the future."
"Adding health services on campus for our students and staff was a clearly identified priority as part of the 2020–2024 Strategic Plan. The Office of Advancement will continue to seek out resources from key partners to provide these services and more in the years ahead," said Michael Fedor, vice president of Advancement and Strategic Initiatives.
Location
The clinic will be housed in super suite 127, which is located at the intersection of College Hill Road and B Street on the Summerdale campus. The facility will be open Mondays and Thursdays, 9 a.m.–1 p.m., for in-person visits. Virtual care will be available Monday through Friday, 9 a.m.–9 p.m., by appointment.
The Central Penn College UPMC clinic will offer basic care services, along with test scheduling for COVID-19, pregnancy, rapid strep and urinalysis. For onsite visits, students and employees only need to present their Central Penn ID. Insurance information will not be required for services provided onsite by medical staff and practitioners.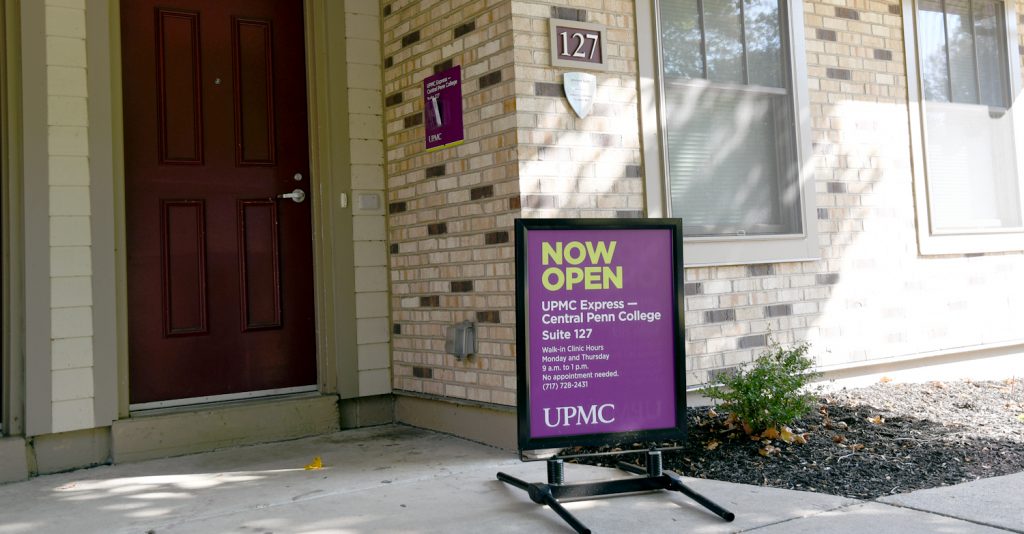 Additional treatment and extended care will be available at the Good Hope Urgent Care location in Enola, which is less than 10 minutes away.
On-Site Clinic Appointments: Walk-in appointments are available, Mondays and Thursdays, 9 a.m.–1 p.m. When possible, it is recommended that students and employees request appointments at the Campus Clinic by sending an email or clicking an appointment request button on the college's website. A clinic staff member will respond to schedule a specific time and day for services.
Virtual Care: To request a virtual video appointment with Campus Clinic medical staff, students and employees should submit a request on the patient portal link: https://www.pinnaclehealth.org/patient-portal/online-video-visits.
Note: For virtual visits, students, faculty and staff must set up a MyPinnacleHealth account at: https://mypinnaclehealth.org/mychart/Authentication/Login. When using virtual care, patients must submit valid insurance information on the MyPinnacleHealth information page. The utilization of virtual care hours is subject to insurance billing and related procedures.
Treatments available at the Campus Clinic
Allergies
Athlete's foot
Bladder infections
Cold and flu symptoms
Cold sores
Cough
Ear infections
Insect bites
Laryngitis
Minor burns and rashes
Minor sunburn
Pink eye
Poison ivy
Ringworm
Sinus infections
Sore throat
Sprains and strains
Upper respiratory infections
Labs and test scheduling
COVID-19 test scheduling
Pregnancy
Rapid strep
Urinalysis