Central Penn College's 140th Commencement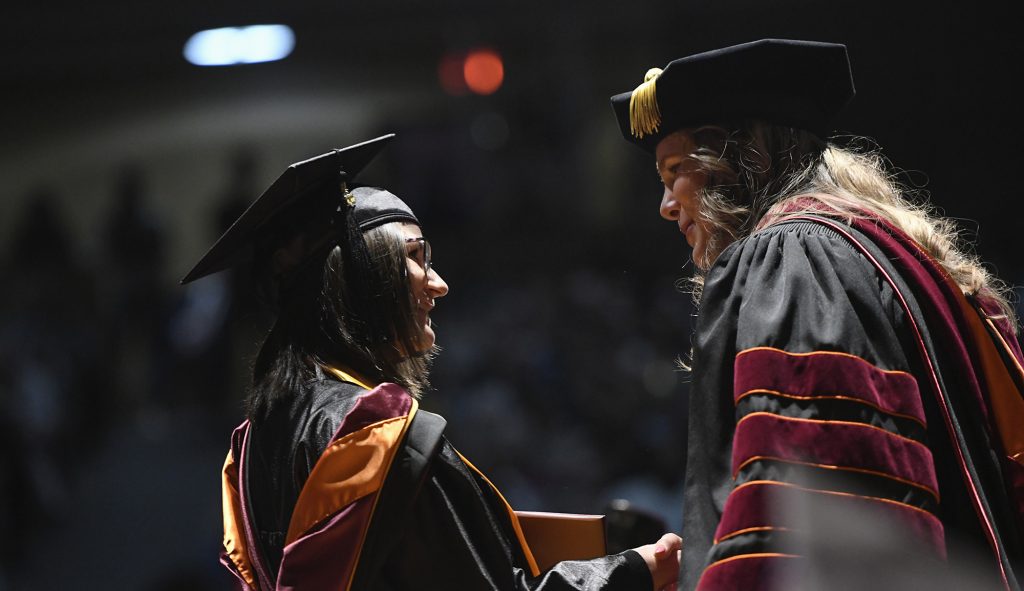 "Don't be deterred by setbacks," said Commencement Speaker Susan Comp during Central Penn College's 140th commencement at the Scottish Rite Theatre. Addressing the 160+ graduates in attendance, Comp urged them to stay focused, despite the challenges ahead.
"Have the confidence and determination to get through or around whatever gets in your way. Then you will know how amazing you can be," said Comp, who serves as the chief nursing officer for the seven UPMC hospitals in central Pennsylvania.
Among her many academic degrees, she graduated with a diploma in surgical technology from Central Penn College in 1981. Before addressing the audience, Comp was presented with an honorary doctorate. In addition, six graduates and one faculty member were recognized at the ceremony.
President Linda Fedrizzi-Williams praised the 2022 graduates for their resiliency during a difficult time:
While I am gratified at how well you have handled the challenges over these past few years, I cannot say I am surprised. After all, you are Central Penn Knights, and Knights are resilient. We know how to adapt. We know how to accept challenges and push through them, and that is what you did.
This year's commencement––held on Friday, April 8, at 7 p.m.––was the first in-person graduation ceremony since 2019. The last two years, Central Penn has held virtual commencements due to the COVID–19 pandemic. The 2022 class of Central Penn College comprises 335 graduates, with 165 participating in this year's commencement ceremony.
The Transformative Power of Education
Valedictorian Leslie Heimbaugh talked about her journey as an older student. "Returning to college later in life was one of the most difficult challenges I have ever faced," said the Perry
County resident. "At the same time, I have never felt more inspired and alive. In many ways, I feel as if I have just been awakened from a long nap by an explosion of knowledge and personal growth."
The capacity crowd of friends, family and well-wishers cheered on the graduates during the 90-minute ceremony at the Scottish Rite Theatre. Traditionally, Central Penn's commencement has been held at the Forum in downtown Harrisburg, but that venue is currently closed due to renovations.
Graduating with Honors
Approximately 42% of Central Penn's 2022 class graduated with honors. "This is a testament to our students' commitment to academic excellence during an extremely challenging time," said Dr. Krista Wolfe, vice president of academic affairs at the college, who conferred the degrees on this year's graduates.
Founded in 1881, Central Penn College provides students with a career-focused education in a variety of disciplines, including business, accounting, I.T., healthcare, criminal justice, legal studies, communications and more. The college offers bachelor's degrees in 10 programs; associate degrees in 10 disciplines; and a master's in organizational leadership, as well as a growing number of short-term, certificate and diploma programs.
Final Thoughts
Reflecting on her career path since she walked across the commencement stage 41 years ago, Susan Comp shared this bit of wisdom with her fellow alumni: "The day I graduated was the day my career journey began. How I would navigate the twists and turns on that journey—and whether I would actually find success—would be up to me. But I left here with the tools, skills, knowledge and encouragement to find that success."
Congratulations, Class of 2022!