Collaboration Results in New Play
The Capital BlueCross Theatre continues its tradition of offering original, innovative and thought-provoking work with Bridge (the gap). This new play––a co-production between Harrisburg-based Sankofa African Theatre Company, Reclaim Artist Collective and the theatre––explores the divide between people and perceptions.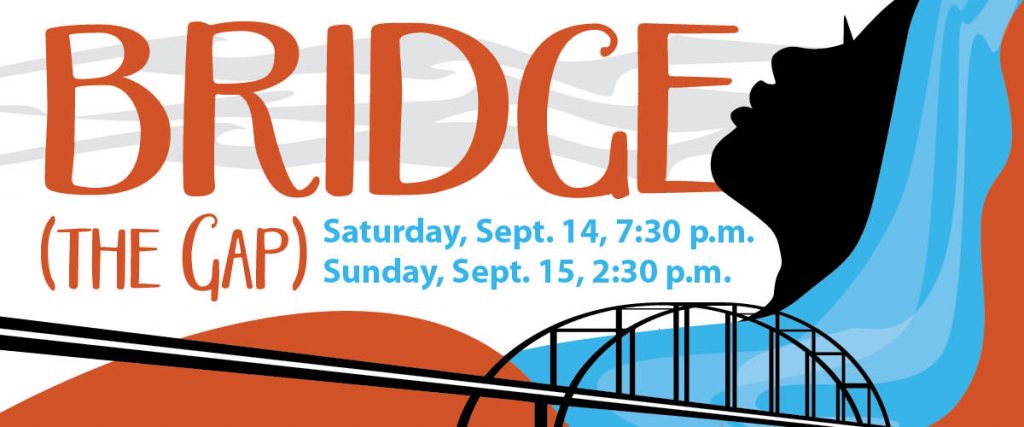 What is the story?
In the play, a young African American woman returns to the small town where she grew up. In an attempt to tie up the loose ends of her uncle's estate, she ends up unraveling long-held secrets that change nearly everything. Can she "bridge the gap" between what she once believed and what she now knows to be true?
Who wrote the story?
It was a collaboration between Sankofa's founder Sharia Benn and Central Penn College Professor Maria James-Thiaw, who also heads Reclaim Artist Collective. Benn originated the concept and story; James-Thiaw wrote the poetry that forms a large part of the dialog, as she had done with Reclaiming My Time: An American Griot Project that debuted at the theatre in 2018.
Central Station recently spoke via email with the three principals––Theatre Director Janet Bixler, Benn and James-Thiaw about the collaboration that resulted in this new theatrical production.
How did the idea for this play come about?
Bixler: In March 2018, Sharia attended Reclaiming My Time and expressed an interest in working with Maria and myself and the Capital BlueCross Theatre.
Benn: Prior to seeing Reclaiming My Time, I was doing some research to expand my play Voices of F.E.W., about the poet, abolitionist and human rights advocate, Frances Ellen Watkins-Harper (1825 – 1911)… Experiencing Maria's beautiful, touching and unapologetically truthful poetry made a connection in my creative mind and spirit between Maria's historiographic poetry approach and my biopic theatre approach.
An old photo…
Bixler: Sharia discovered the 1911 photo from Okemah, Oklahoma, of the bridge and the lynching of a mother and her son.
Benn: I had an outline of the characters and key elements of the storyline when Maria and I met in October 2018. I started really developing the characters and writing some of the dialog in February 2019.
James-Thiaw: I used the photo and the story around it to inspire me to write the poetry. Some of the poems are ekphrastic, meaning poetry that's based on art. Overall, I call the work I do historiographic poetics––it highlights certain moments in history and expresses them through poetry.
Benn: In March, Maria handed her poetry over to me to weave into the story, and the two became a perfect fit. Scripting the dialogue has taken about six months and as with any new work, it is dynamic and evolving.
Bixler: Bridge (the gap) uses a historical photo to explore current struggles of identity, love, acceptance, cultural competency and the depths of how the African Americans' identity has been dictated by the power class.
Original, live theatre right here in Summerdale
Benn: I'm honored to work with the extraordinarily gifted poet, Maria James-Thiaw, and the incredibly experienced and creative theatre artist Janet Bixler. I've also had the pleasure of meeting and working with some wonderful Central Penn students who have thrown themselves into learning about theatre, history and each other.
James-Thiaw: I'm thankful that the Capital BlueCross Theatre is here to offer students new experiences through the arts in an affordable and convenient location. Many of our first-generation college students didn't come from families who could afford Broadway or other live theatre experiences. Having the theatre creates awareness about the college in the community and let's them know that we are giving students a well-rounded education that will make them better prepared for a diverse workplace.
Get your tickets
Bridge (the gap) debuts this weekend on Saturday at 7:30 p.m. and Sunday at 2:30 p.m. Tickets are $3 for CPC students; $7 for CPC staff, faculty and alumni; and $10 general admission.