COVID-19 can't stop this Central Penn College student and her crew
Central Penn College student Jessica Edmondson is a natural-born problem-solver.
"I love hearing about a problem, getting involved and fixing it," Edmondson said. "It's my job to hear the needs of the business and then establish guidelines, rules, policies and guidance. However, I don't work with data; I work with people."
The coronavirus pandemic has given Edmondson, 38, new opportunities to flex her problem-solving muscles.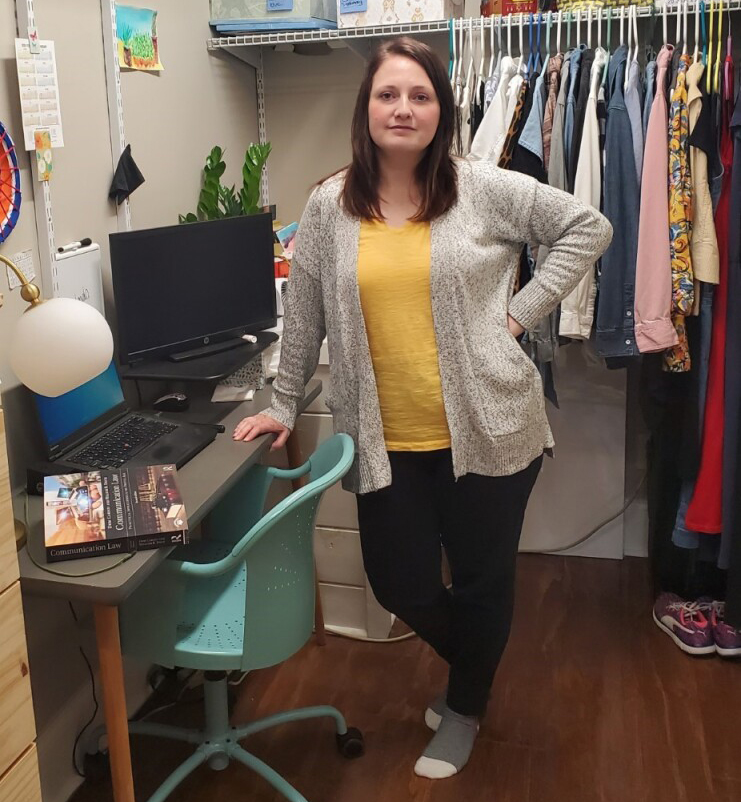 Like many of us, Edmondson had to start working from home due to the COVID-19 outbreak. "I have a decent-sized walk-in closet, but I don't actually have a lot of clothing, so I was able to make an office for myself in my closet," she explained.
In her work as manager of data governance and retail business services for the Ahold Delhaize Co., near Charlotte, North Carolina, Edmondson and her team identified a critical problem caused by the pandemic and worked hard to solve it.
Specifically, the issue in question has to do with the Special Supplemental Nutrition Program for Women, Infants and Children (WIC).
The WIC program provides federal grants to states to offer supplemental foods to low-income pregnant women, as well as women with infants and children up to age five who are at risk of going without adequate nutrition.
Because grocery stores across the country are having problems keeping their shelves fully stocked with all their regular products, WIC participants have experienced difficulties finding the exact items the program requires.
According to Edmondson, the WIC program stipulates that clients may purchase grocery items from a particular list of products and package sizes. The cash registers are programmed to allow only those exact products to be purchased.
"When an item is out of stock, the customer can't exchange the item for something else, because the register will reject the transaction," she said.
Edmondson and her team got busy developing a solution. They quickly began working with each state with an operating Ahold Delhaize property to suggest substitute items that still meet the stringent nutritional requirements for their WIC consumers.
"The states reviewed those items, approved them and, up to this point (late April), we've had some 250 items in the nine states that have been approved based on our recommendations," Edmondson explained.
Ahold Delhaize recently recognized Edmondson and her crew's resourcefulness in one of the company's internal online publications.
'Unglorified' jobs? Oh, yeah?
Even though the company has changed ownership a few times, Edmondson has been with the firm for 16 years, and said she's grateful for the opportunities Ahold Delhaize has offered her.
"I think people need to recognize that there is a lot that goes into 'unglorified' jobs," Edmondson said.
As it turns out, Edmondson's job is far from boring. Two years ago, the company sent her to Europe – twice – to sit on a global board about data to represent the entire Ahold Delhaize organization.
"I get to travel to amazing, beautiful places for long periods of time, eat amazing food and schmooze with some pretty fantastic people," she said.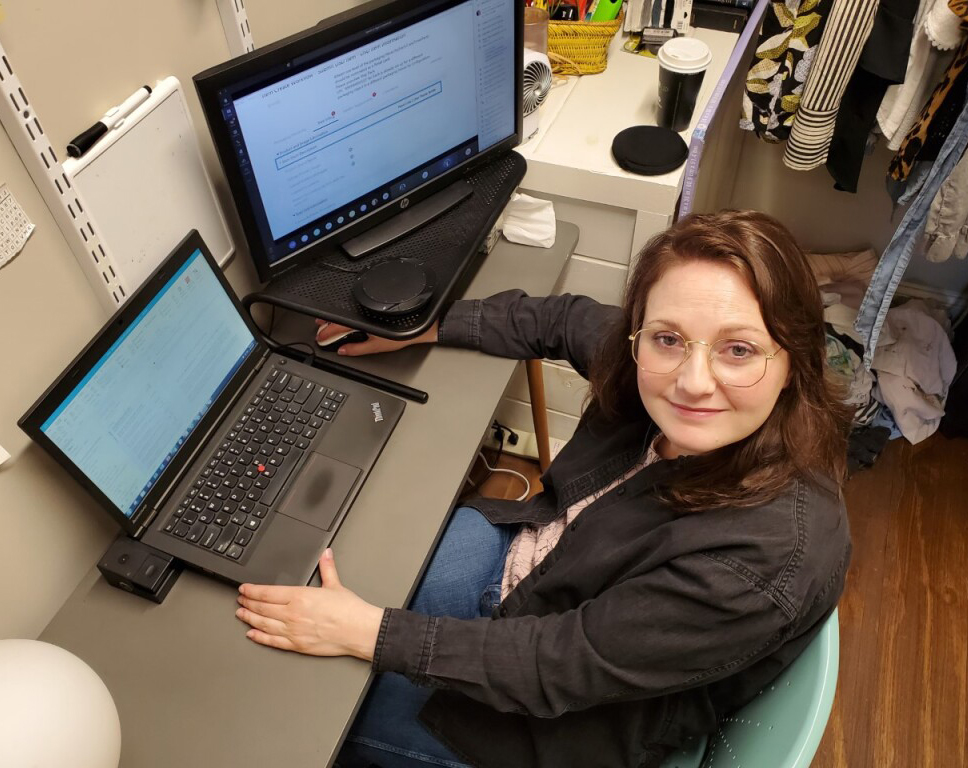 In 2002, the new Giant Food Store in Mechanicsburg hired Edmondson on the spot at its grand opening. Within six months, she was promoted to seafood department manager, and six months after that, she began training as a relief manager.
Edmondson was taking classes at Harrisburg Area Community College (HACC) at the time but soon decided that her time could be better spent at the store, so she dropped out of college.
After the birth of her first son, in 2011, as Edmondson's career progressed, she decided that a job in the office might be a little less chaotic for her family. Thinking that a degree might help her chances, she enrolled at Central Penn College. She now majors in corporate communications and expects to finish her coursework in December.
After graduation, Edmondson plans to stay with Ahold Delhaize. And that's fine with the company – she said they appreciate her for who she is.
"I'm a little quirky, and I'm relatively outgoing, but I can be very authentic with this company," she said.
Earning her bachelor's degree didn't turn out to be necessary for her career to progress, but it checked off a bucket-list item for her. She advises younger students to consider the value of thinking of the long-term when they graduate and begin their new careers.
"There's something to be said about sitting tight and remaining in the moment with an organization, and figuring out how you can take what you're good at and apply it," she said.
Like many of us, Central Penn College student Jessica Edmondson had to start working from home due to the COVID-19 outbreak. "I have a decent-sized walk-in closet, but I don't actually have a lot of clothing, so I was able to make an office for myself in my closet," she explained.
Some background, and new details
Ahold Delhaize first entered the U.S. market in the 1970s and is now the parent company of several supermarket chains, including Giant Food Stores, Food Lion, Giant Food (of Landover, Maryland), Hannaford, and Stop & Shop. It has a strong presence in major markets along the East Coast, with around 204,000 associates and more than 2,000 stores and distribution centers across 23 states.
The company recently announced a $10 million relief package to address critical needs in the wake of the coronavirus pandemic, according to Supermarket News Executive Editor Michael Brown.
"Through our local brand efforts, we play a critical role in the food supply chain and are operating in regions greatly impacted by this crisis," said Ahold Delhaize USA Chief Executive Officer Kevin Holt in a recent interview with Brown. "Our COVID-19 relief package ensures we're financially committing to critical needs, along with implementing continued social distancing measures and creating new employment opportunities when it is needed most."
The outbreak of COVID-19 has dramatically changed the way grocery stores are doing business in the short-run. Edmondson said they are much busier now, looking for solutions to problems they haven't had before – specifically, the lack of available inventory.
"When I'm placing my order, so is Walmart, so is Kroeger and so is Target," Edmondson said.
Edmondson said Ahold's sourcing department was looking for new vendors, manufacturers and organizations to fill the spaces on their stores' shelves. Now there are even more products –and more complicated logistics – for the crews to manage.
"We've had an increase in item count, so my team that works out of the Carlisle office – there's 18 of them – they're setting up, on average, 2,000 new items a week right now," she said in late April.
Edmondson and her husband, Isaac, 39, a stay-at-home dad, have two sons, Royal, 9, and Windsor, 4. The family relocated to Mooresville, North Carolina, from Enola in 2018 for Edmondson's promotion to her current position.
Edmondson and her team are responsible for the data associated with every item in the stores – the supplies that make running a supermarket possible. She explained that barcodes are structured so that the information embedded within them allows our food supply chain to function.
"Not many people know what it takes to get a box of Cheerios on the shelf," she said.
What's it like to grocery shop with Jessica Edmondson?
As an employee of the largest supermarket chain on the East Coast, Jessica Edmondson can be a pretty tough customer when she food shops for her family.
"Oh, I'm like a super-picky, snobby shopper," she said in a recent interview. "I'm very critical of a lot of stores and competitors, but I also get really excited when I see them doing something right."
Edmondson said she likes to splurge on groceries and that she's lucky to have the luxury to put things into her cart and not worry about the cost.
Her passion for food shopping spills over into her leisure time, too.
"When we go on vacation with my family, if there's a retailer that I've never been to before, we are definitely stopping to check it out," she said.
This article was written by Central Penn College student Leslie Heimbaugh and originally published by the Knightly News Club.