Former Phillies Phenom Hits a Home Run with Central Penn College Community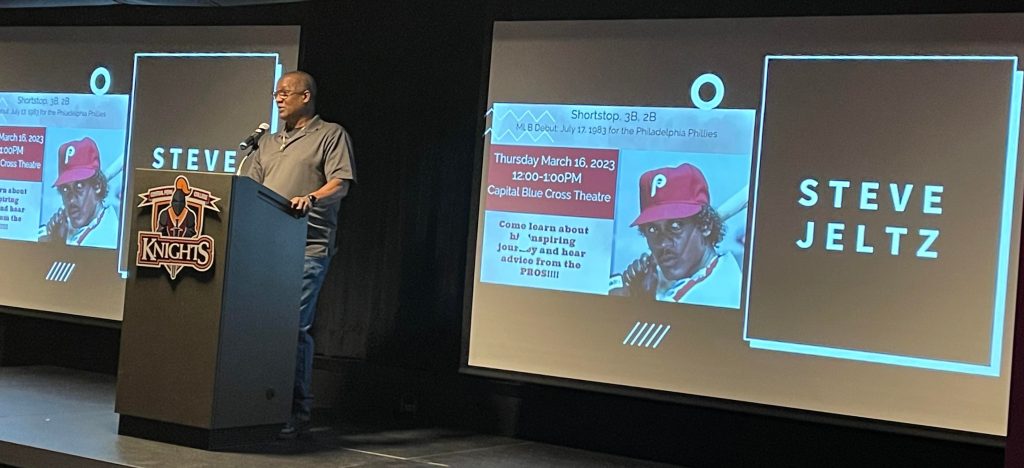 When Steve Jeltz was a kid growing up in Kansas, playing baseball with his friends, they used to write the name of their favorite major-league player on the back of their T-shirt.
Not him. He wrote his own name: Jeltz.
He must have had a crystal ball, because, leaping through time like he leaps through air to catch high-velocity hits, he made it to the Major Leagues, playing shortstop, third base and second base for the Philadelphia Phillies for 7 ½ years and then the Kansas City Royals for one more. His success—and his longevity in a sport where most professional players last only two years—were especially surprising considering his life's ambition was to go to law school, not play baseball.
Jeltz, now 63 and living in the midstate, spoke to student-athletes, faculty and staff as part of the Student Athletic Association's first Speakers' Series event in the Capital Blue Cross Theatre. SAAC President Ryan Stevens introduced Jeltz, and basketball player Nate Jean-Philippe thanked him at the close for his inspiring address.
Much of Jeltz's talk encompassed far more than baseball: he spoke about his faith, his principled parents, racism, respect and attitude.
In 2003, he had a brain tumor removed after he suffered a sudden, unexplained seizure in Denver, Colorado. He had a miraculous recovery, showing the stunned doctor that he could walk the halls and was ready to go home. Defying all expectations, he had surgery on a Monday and went home on Friday.
His father, a Command Sergeant Major in the U.S. ARmy, instilled lifelong lessons, including urging him to never blame the color of his skin when something went wrong and to stand up against bullies. His mother worked at the University of Kansas and was also his role model, as was a talented, athletic brother he admired and lost.
Jeltz's talk opened with a highlight reel of his career, which included game clips of a three-run homer, base-stealing and many seemingly impossible in-the-air catches. Sportscasters deemed him "a defensive whiz" and roared into the microphone about "What a sensational play by Jelz!"
As the first black baseball player at the University of Kansas at a time when race riots were still raging, his words of wisdom transcend the baseball diamond:
"Think about how you can be a blessing to someone else."
"Treat others the way you want to be treated."
"I don't care what religion you have. Use it."
"You're only as strong as your word."
"Appreciate where you're at. Appreciate the people around you."
My mom always said," It's not what they call you. It's what you answer to.'"
He urged student -athletes not to make the major leagues their goal, but to have fun and get a good education. He also urged them to avoid the party scene and take nothing for granted.
Jeltz played with greats like Steve Carlton, Gary Maddox, Pete Rose, Bo Jackson, Cal Ripken, and Mike Schmidt. He played basketball with Charles Barkley while in Philly.
Jeltz answered many questions from the audience, explaining what he did to set himself apart from other players, what would he say to players who might be on the bench, and what it was like to get that call that he made the Phillies.
Jeltz, who stopped playing professional baseball in 1990, is hoping to build a sports facility in central Pennsylvania.