Giant Food Stores Partners with Central Penn College
Giant Food Stores is the latest local company to partner with Central Penn College. Their employees are now eligible to receive a $1,000 scholarship to attend Central Penn College. Giant also provides $5,250 a year in tuition reimbursement to 8,856 eligible full-time associates across the state.
"Giant is very excited to partner with the college and we're confident our team of associates will take advantage of this new opportunity through our tuition reimbursement program," said Giant Food Stores' director of Talent, Diversity & Inclusion and Organizational Development and Central Penn alumnus Brian Wanner, '90.
Central Penn is only the third educational institution to partner with the grocery store chain and Wanner is excited to have his alma mater available as a resource to employees.
Giant Food Stores has more than 180 retail stores throughout Pennsylvania, Maryland, Virginia, and West Virginia with their corporate headquarters located in Carlisle, Pa.
"At Giant, we're committed to offering our associates a variety of programs, resources and services to help them be successful professionally and personally, both inside and outside our store walls," said Wanner.
Central Penn offers a variety of career-relevant degrees, including business administration, accounting, marketing, corporate communications, information technology, legal studies and more.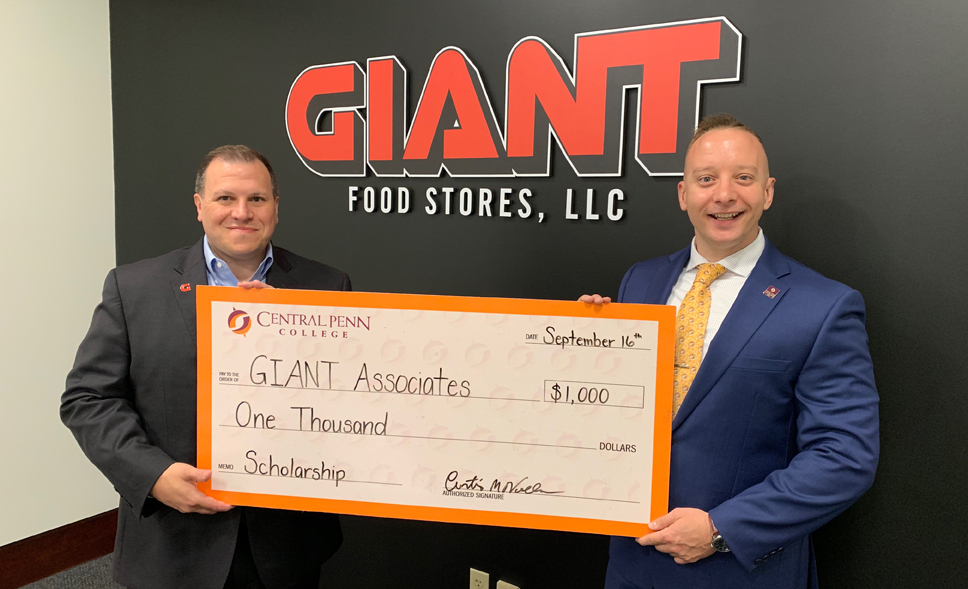 "By partnering with an established educational institution like Central Penn," says Wanner, "We're not only helping our associates achieve academic success and a better life for their families, but we're also helping create stronger communities, and that's something we're incredibly proud to be able to do."
Since July 2018, Community Relations Coordinator Curtis Voelker has added more than 35 companies to Central Penn's Corporate Partner Program.
During the 2018–2019 academic year, Central Penn College awarded 45 scholarships to students who work at local and regional employers, thanks to the college's Corporate Partner Program.
Those students came from more than 30 companies and organizations, including PHEAA, Wellspan, Highmark, Geisinger and the Department of Defense, to name just a few. The $1,000 scholarship can be used over a student's first three terms at the college.
In the past few months, he has signed partnership agreements with New Cumberland Federal Credit Union, Ritter Insurance Marketing, Bethany Village and, most recently, Giant Food Stores.
"Our career-focused programs appeal both to employers and employees in the capital region," said Curtis Voelker. "It's a win-win for everybody involved. Employees gain valuable knowledge and skills, and employers get a more educated and empowered workforce."
"For more than 100 years, Central Penn College has served as a resource for career education for working adults in the capital region," says Voelker. "And we continue to build on that tradition with initiatives such as our Corporate Partner Program."