Introducing the inaugural class of the Central Penn College Athletic Hall of Fame
Central Penn College recently welcomed the members of our Central Penn College Athletic Hall of Fame and their families back to campus for an induction ceremony. The Central Penn Athletic Hall of Fame acknowledges the talent and impact that previous student-athletes have had on the institution and their respective programs.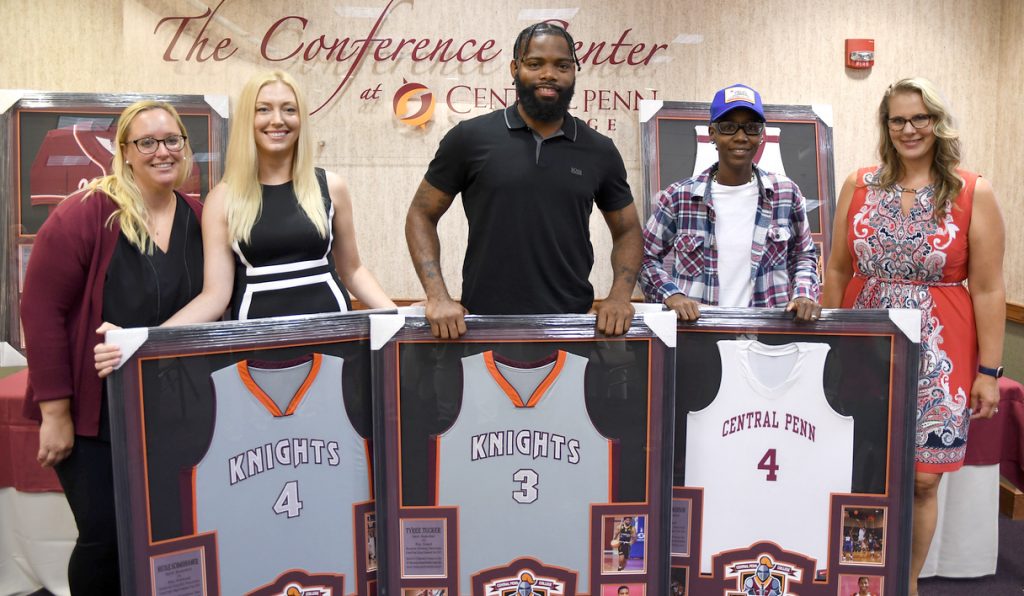 Jerry Biller III—2019 Accounting Graduate, BASEBALL
This first baseman batted .380 over his career and helped lead Central Penn to its first USCAA Top 10 Small College World Series Appearance in 2017. Jerry was a USCAA batting leader and ranked 5th in the country in Stolen Bases. He was also a USCAA All- American and 2X National Academic All-American.
Nicole Schmidhamer—2015/2019 Paralegal and Legal Studies Graduate, W. BASKETBALL
Nikki was the first female student-athlete at Central Penn to be named as a USCAA All-American and Academic All-American in the same season. She averaged a double-double nearly every game of her career, leading her team and the USCAA in points per game and rebounds per game. She is a USCAA Academic All-American and 2x Sports All-American.
Tyree Tucker—2017 Business Administration Graduate, M. BASKETBALL
Tyree was a member of the men's basketball team who left a mark at Central Penn and continued his dream of playing professionally overseas. Tyree Tucker was a two-time USCAA Men's Basketball All-American 1st Team honoree. He racked up 1,660 career points, averaging 10.8 points a game. In 2016, he set the college's single-game scoring record by dominating with 53 points, shooting 8–16 from behind the three-point line. Tyree was special to watch on the court.
Devon Dorsey—2016/2019 CJ and Criminal Justice Administration Graduate, M. BASKETBALL
Devon set the tone for our powerhouse program and was one of the first Central Penn players to make it professionally overseas after college, even earning a Eurobasket MVP award averaging a double-double in points and rebounds on the season. During his time at Central Penn, Devon was a star from the day he stepped on the court. He was a 4x 1st team USCAA All-American and the only Central Penn athlete to earn National honors all four years. He was a dynamic scorer, attaining more than 2,000 career points and shooting a program high of 51.1% from the field. Devon was also our first student-athlete to earn USCAA National Player of the Year honors.
Jasmine Robinson-Hill—2014 Corporate Communications Graduate, W. BASKETBALL
Jasmine was the first ever Central Penn student-athlete to reach the 2,000 career point total. She was a 2x Women's Basketball USCAA All-American impacting the game in scoring, rebounding, assists and steals. Jasmine was a team leader and finished the 2014 season ranked 1st Nationally in the USCAA for points scored.