Matthew McLaughlin's Information Technology Journey to Central Penn College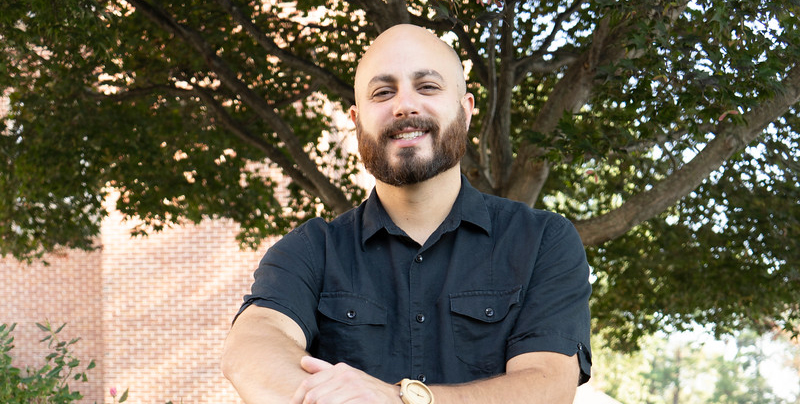 Before attending Central Penn College for my Information Technology degree, college was something that never was on my radar growing up. In high school, I was focused on sports and social status, and never took the time to make decisions that would shape me for future success.
I joined the United States Air Force and filled my late teens and early twenties with traveling and training, so when I finished my enlistment in 2012, I had no idea what I was going to do.
After floating around between restaurant jobs for five years, I finally decided I needed to make some changes.
First Step: Thaddeus Stevens
I obtained an associate degree from Thaddeus Stevens College of Technology in computer networking in 2019, and all the while worked as an intern in their I.T. department.
I was surprised at how much I enjoyed and missed taking classes and applying myself to learning new concepts. Upon graduation, Thaddeus Stevens hired me as a full-time staff member in their I.T. department.
Next Step: Central Penn
I wanted to continue my education though, as I wanted to be in more of an administrative role eventually and I realized that Central Penn College had an excellent bachelor's program for Information Technology. The degree was fast-paced, but I managed to achieve magna cum laude upon graduation.
Both my associate's and bachelor's degrees have helped me become more efficient and knowledgeable in my field as a computer technician and technical support specialist. On a daily basis, I work with all kinds of technology, from computers and printers to Wi-Fi networks and virtual machines.
I work closely with the user community each day and am constantly in contact with our staff and faculty resolving their issues. This is one of the more stressful parts of the job, but it is rewarding to help them and get them up and running, it is good stress to have!
Every day, I am challenged with a new issue or problem and get the opportunity to put my troubleshooting to the test. My work environment is outstanding and there is always room to grow. Learning what I did through the various courses at Central Penn truly has set me up for success in this aspect. I am thankful to the faculty and staff at Central Penn College for being clear and helpful in all aspects, I could not have gotten to where I am today without them.
Building on Success
Working for and receiving my bachelor's degree was not enough for me though, so I decided to continue my education once again, and take the Organizational Leadership master's program at Central Penn College. I am in the middle of my third term and am learning how to grow as a leader in my field and in my life.
Upon completion of this degree, I will be able to propel myself into more of a director role of Information Technology. department hopefully someday. Using the skills and knowledge I am learning and will continue to learn, can only set me up for success and I am truly thankful for the opportunity.
Advice for Students
Going back to college was something I never thought I would do, but I sure am glad I did it! If I could give a little advice to future students, it would be quite simple.
Stay with your studies and keep up on your work. I know life is very busy and hectic, I get that!
Spending some time each day in your textbooks and course materials is a very easy way to not feel burdened and to stay ahead of the assignments.
Giving yourself a block of time each day really does make a difference, don't procrastinate!
I read a statistic recently on admissionly.com, which stated that 40 percent of undergraduates drop out of college by their second year. You can make sure you're not part of that statistic if you can put the work in. And don't forget to be proud of your accomplishments and hard work!