Meteorologist Tom Russell headlines Central Penn College speaker series
Last month, Chief Meteorologist Tom Russell, of CBS TV 21 in Harrisburg, was the featured guest of the Knightly News Media Club speaker series.
The occasional series features an invited guest speaker for the club's final meeting in a term.
Twenty-five people, including members of the Knightly News Media Club, attended.
Everyone enjoyed lunch, provided by the Media Club, along with hearing about how Russell broke into broadcasting, and about many adventures on which his career has taken him.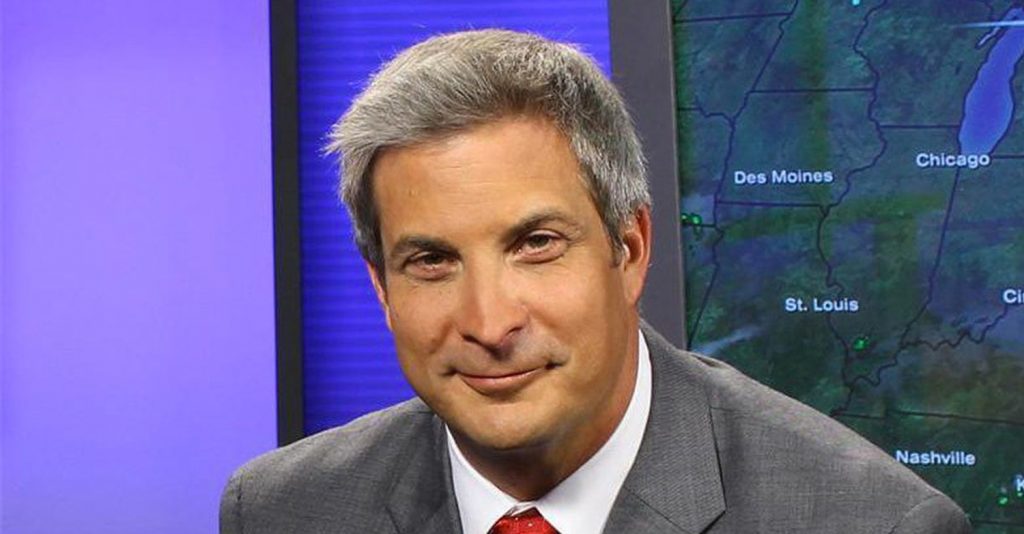 Inspiration …
Russell began by telling everyone about the panda radio he had as a child. He mentioned how he could turn the dials and pick up stations from around the country. He said that was when he realized he wanted to get into broadcasting.
During his time at the University of Dayton, Tom Russell thought he would take a crack at working in law enforcement. Unfortunately, he said, there was not much work available, so he found his first job at the campus radio station. While there, he also worked overnights for a noncontemporary station.
Also during college, Russell worked on a cartoon show. This was his first opportunity to work on television. Many people began to recognize him for his work on this show and thought he was "pretty cool."
After college, Russell found a job as a disc jockey in Baltimore, where he is originally from. He would help play the records on a party boat, which could be very difficult at times, depending on how rough the water was. He recounted how he used to bring pillows aboard to put under the record players to keep the needle-cartridge arm from moving.
Russell's first full-time job was working with popular radio personality Casey Kasem. While working for Kasem, his job was to flip records at the countdowns for each show. Although this did not seem like a challenging job, it had its difficulties.
Russell also had the chance to work with Glenn Beck, producing his morning radio show. He said Beck was not always the pleasant guy people know him as today, and this led to a falling out that caused Russell to leave the show. Although this did not work out as planned, Tom Russell was very grateful for the opportunity.
After Beck
After his falling out with Beck, Russell decided to move to the Virgin Islands. He mentioned that he gave himself three weeks to figure out what to do next. He believes God led him to the Virgin Islands, because during his time there, he met a man who was from Baltimore who had a radio station in the islands. Russell was then able to get a job disc jockeying for this man in St. Croix. Although he enjoyed his time in the Virgin Islands, Russell decided it was time to move back to Wilkes-Barre, Pennsylvania, where he had met his future wife while working in that area.
After working in Wilkes-Barre for about two years, Russell found himself at a television station in San Diego. He announced proudly that he helped orchestrate an all-female morning show that was one of the first presented on television.
After San Diego, he ended up employed as a radio director in Panama City, Florida. This is where he began working as a meteorologist, which started out only on weekends but eventually became a full-time gig.
Moving up to chief
When the full-time weather person decided to leave the station, Russell gladly accepted a position to become the chief meteorologist. The station helped him go back to Mississippi State, where he majored in meteorology. This position eventually led him to Orlando, which was his first Top 20 market.
In 2002, Tom Russell and his wife finally decided to move back to Central Pennsylvania, where he started working for CBS 21. He has been in broadcasting for over 30 years and provides viewers with a variety of expertise.
"Don't be afraid to go out on a limb, no matter what the circumstance," Russell explained when answering a question about his profession.
He clarified that he feels as though the communications field has moved from a push model to a pull model. Today, listeners can decide when to listen to the news and how they are going to listen to it. Russell explained that everyone should be flexible.
"Take advantage of all the opportunities you have to get better," he advised. "Put yourself in uncomfortable situations where you have to stretch yourself."
Looking for your lucky break?
He also gave a good piece of advice when it comes to college graduates trying to get into broadcasting.
"Always be yourself," he said. "The biggest mistake young people tend to make is they want to play the anchor. Be real and make that connection with people."
He also said that making community connections helps make relationships with people one would never think of meeting.
Community involvement
During his time as chief meteorologist with CBS 21, Russell has been very involved with the community.
He helps raise money for many charities, including the Leukemia and Lymphoma Society, American Cancer Society and the American Heart Association.
In October, Russell participated in the Real Men Campaign to help raise money for breast cancer awareness. During this event, one of his challengers was Knightly News Secretary Parker Rose.
---
By Tyler Coleman, Knightly News Reporter
Coleman is co-president of The Knightly News.
Edited by Knightly News coadviser Professor Michael Lear-Olimpi.
Have a comment or a story idea? Contact TheKnightlyEditors@CentralPenn.Edu.