Physical Therapy business partners trace roots to Central Penn College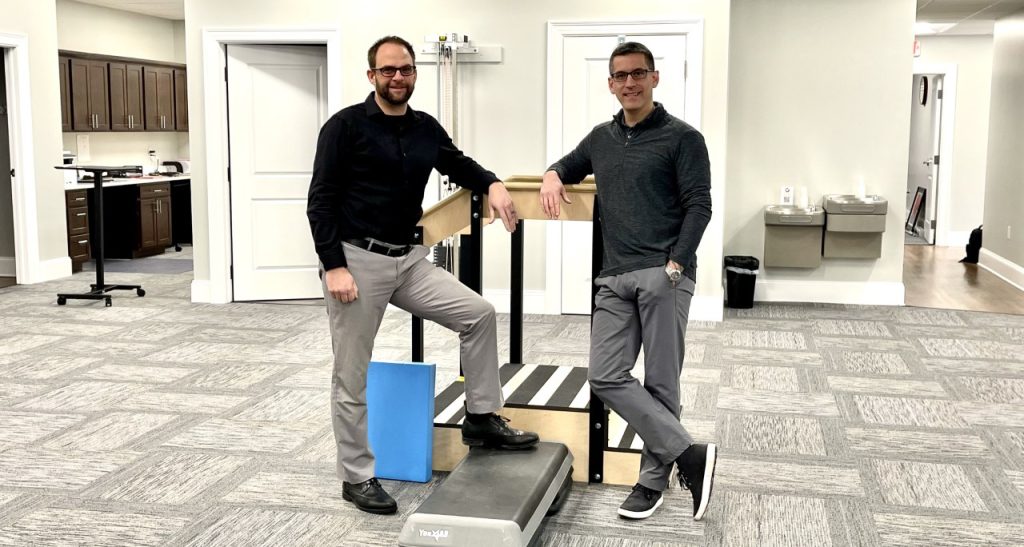 Brian Cardin, PT, C.Ped., and Steve Miller, PT, C.Ped. became fast friends in the early '90s while studying to become physical therapy assistants at Central Penn College. Fast forward to today, where the two friends are now successful business partners who are quickly expanding their footprint throughout the Midstate.
Cardin & Miller, PT, now comprises three bustling physical therapy offices in the Carlisle-Mechanicsburg area, along with The MedGym, and a footwear and healthy living store known as Appalachian Running Company. The team has grown from three employees (including Brian's wife Nikki, also a Central Penn alum) to 43 on the physical therapy side alone.
While at Central Penn in the '90s, Brian and Steve saw how many physical therapy offices were all business—"highly transactional"—with little time for fun and friendships.
They joked that they would open a "Nice Guys Physical Therapy," and dominate the marketplace. After graduating from Central Penn and going on to earn credentials as full-fledged physical therapists, that nice, simple business model is …well…working out nicely.
Their team prides itself on always going the extra mile, and making each person feel comfortable and heard.
As their business took off, Cardin began to handle more of the entrepreneurial side of the business, and Steve, a certified pedorthist like Brian, began handling more of the clinical side, including many clients with foot and ankle issues.
Their clients range from senior citizens who fell, to professional athletes with a stress injuries, to lawyers and surgeons on their feet all day in a courtroom or operating room.
They will customize a plan to help everyone "move better, feel better, live better," as their motto promises.
They said their training at Central Penn taught them to study, focus, and "grind"—to work extremely hard to excel.
Miller said the main secret to their success is "teamwork, adaptability, and having the right people in the right seats so that we are all 'rowing in the same direction.'"
Cardin remembers Central Penn's PTA program as "an extremely strong program at that point," under the direction of now-retired physical therapist Gary Karkuff of Mechanicsburg, who inspired them to consider private practice.
Miller said his favorite memory of Central Penn is "the close friendships that were formed as a result of all the time we all spent studying together."
He encourages current physical therapy assisting students to, "Be ready and willing to work hard, study and put the time in that's required for success. Focus on applying what you learn clinically versus just memorizing the information for the test. Observe as many PTs as you can in different settings prior to and during school if you are able, to see how the knowledge you learn can be applied clinically. In addition, it will help you learn how to develop a good rapport with patients and that's half the battle."
"Big-box models look at the client as a commodity. We see it as a service," Brian agreed.
Cardin lamented the fact that many clinicians left the field during the COVID-19 pandemic. Many had to stay home with young children as schools pivoted to online learning, or they found another job. He is always looking for great PTAs.
Why not try a run in the field?
"A good PTA is priceless," Cardin said. "They can make or break the patient experience."
"Often, you don't realize when you are working, and your head is down…. You don't look up and see how far you've come in the journey."
Their store's sign encapsulates their commitment to excellence and self-improvement –all in three inspiring words: "Further Every Day."
If you want to start your journey in this growing, rewarding field, and help others move without pain, visit www.centralpenn.edu/pta.
Take that first step at Central Penn.