Rotary Veterans Initiative recognized two veterans with Central Penn connections
The Rotary Veterans Initiative (RVI) recognized two veterans with Central Penn connections––alumnus Randy Ramer and student Chris Anderson in an outdoor ceremony at Heberlig-Palmer Park in Carlisle. In addition, RVI will present a check for $15,000 to the Education Foundation in support of scholarships for student veterans.
This donation provides two $1,500 scholarships for CPC continuing student veterans, 14 $500 vouchers for electronic devices to download textbooks, and 10 $500 vouchers for textbooks. Also, RVI continues to offer industry-specific mentoring to CPC student veterans. In 2017, the organization donated $10,000 to the Education Foundation for scholarships.
"Central Penn College is proud to continue to partner with the Rotary Veterans Initiative to help student veterans succeed and achieve their dreams," said Sandra Box, Education Foundation director and member of the Rotary Club of Mechanicsburg North, "We have a long tradition of working with valued community partners and helping those who have given so much to our country."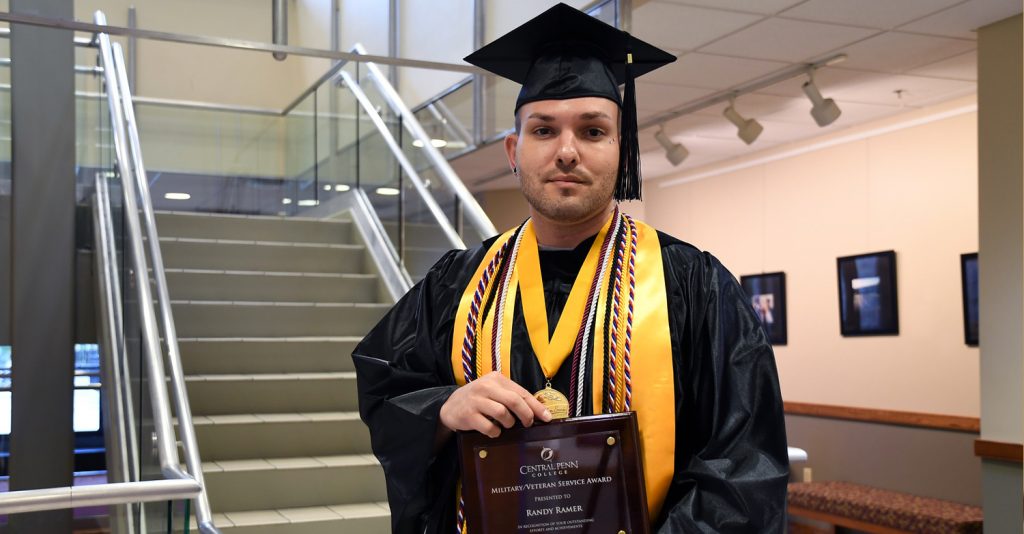 Recovery and redemption
Once an addicted and homeless veteran, Ramer turned his life around, thanks in part to assistance from Central Penn College and RVI. He benefited from an RVI technology award in 2018, enabling him to purchase a laptop, and from RVI mentoring in the computer security field. He just graduated with an associate degree in computer information systems.
In an October 2018 letter to RVI, he wrote, "I hope to one day be able to give back to my fellow veteran student peers as you have generously done for me. Your donations have made a lifelong impact." Ramer made good on that pledge last November when, as president of CPC's Armed Forces Association, he led an all-night camp-out to support homeless veterans, raising nearly $2,000.
Justin Doty, president of the Rotary Club of Carlisle, said, "We're so proud of all these veterans, like Randy Ramer, who have not only served our country and sacrificed for us, but who have come back home and faced enormous challenges. Randy has overcome these challenges, and we're humbled to have even played a small role in his success."
A history of support
This RVI donation to CPC––combined with a forthcoming donation to another institution–– will bring the total RVI investment in central Pa. student veterans to $145,000––helping a total of 209 student veterans.
Anderson, majoring in criminal justice, is the current president of the Armed Forces Association at the college. In addition to Sandra Box, the following also will represent CPC at the event: Benjamin Lipschutz, interim dean, School of Business and Professional Studies; Dr. Sam Morgan, program chair, Law and Justice studies; and Dan Guerrisi, student success coach/military benefits coordinator.