2019 Central Penn College Business Partner of the Year
H&R Block, Shippensburg, was named the 2019 Business Partner of the Year by Central Penn College at a ceremony this morning in the Conference Center. The award recognizes a local company for partnering with the college and its Career Services department.
In 2016, Central Penn developed a partnership with the H&R Block Shippensburg franchise, which is owned by Barbara Richardson and includes five locations in Mechanicsburg, Duncannon and Shippensburg.
The partnership enables the college's accounting students to complete their internship at one of the franchise's five locations. Since then, six students have successfully completed their 180-hour internships with H&R Block.
"I would like to thank Central Penn College for honoring us with this prestigious award," said Richardson. "We love to give back to the community here at H&R Block."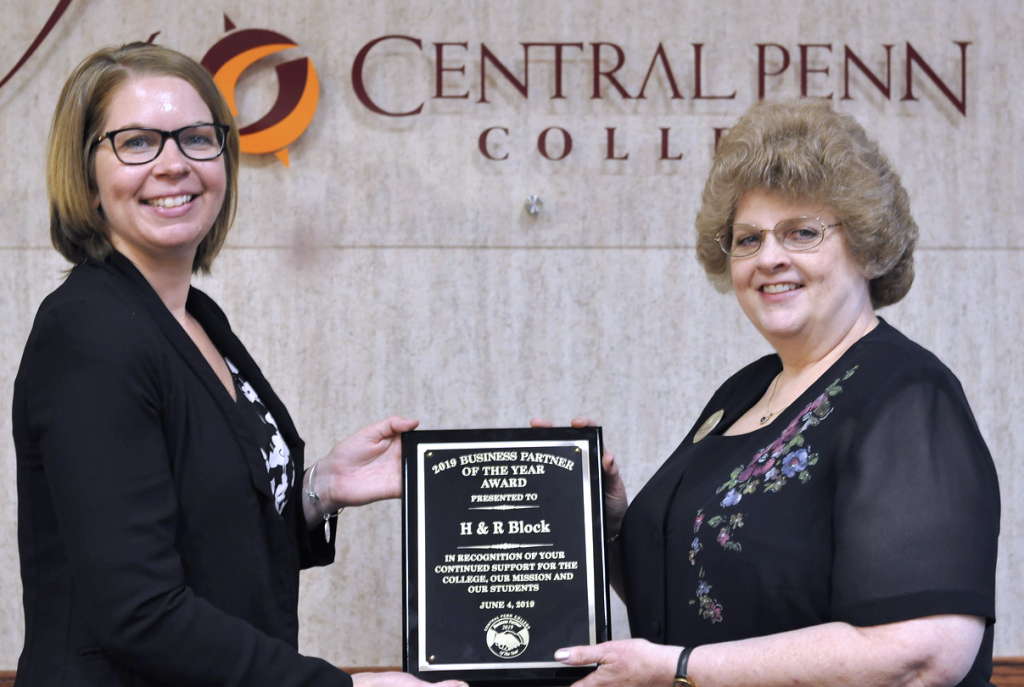 "Not only does Barbara welcome our students into her business, but she also has been instrumental in connecting our students with H&R Block offices in Hanover and Altoona," said Steve Hassinger, Career Services Director at the college.
"When I was a college student, a local business sponsored me as an intern," said Richardson. "I always remember how valuable the things I learned in my internship were and how they helped me in future endeavors. I'm proud to pay forward that same career enhancement experience with the up-and-coming college students of today."
This is the 15th year for the award. Previous winners of the Business Partner of the Year award include:
2018 – CPRS Physical Therapy
2017 – New York Life
2016 – Pennsylvania State Employees Credit Union (PSECU)
2015 – Spring Creek Rehabilitation Center
2014 – Hershey Entertainment & Resorts
2013 – Nationwide Insurance
2012 – Capital BlueCross
2011 – Metro Bank
2010 – Holy Spirit Health System
2009 – Highmark
2008 – AmeriChoice Federal Credit Union
2007 – Drayer Physical Therapy Institute
2006 – Giant Food Stores
2005 – SatoTravel