The Journey of Kristal Turner-Childs
In December 2018, Kristal Turner-Childs was promoted to major and named as the director of the 300-person Bureau of Forensic Services, one of the largest departments in the Pennsylvania State Police. With that announcement, she became the second African-American woman to attain the rank of major in the organization.
During the course of her 21-year career with the state police, the Harrisburg native has held numerous leadership positions. Yet it's not the thought of personal accolades that drives her, but rather the belief in serving others. "We're all part of the same team," she says. "My role as director is to influence others, so the team can function at their highest level."
The state police has approximately 4,200 troopers; 300 of them are women. Of that number, only 20 are African-American. When she joined the force in 1997, there were even fewer female troopers of color… what inspired Turner-Childs to pursue a career in law enforcement and, specifically, the state police?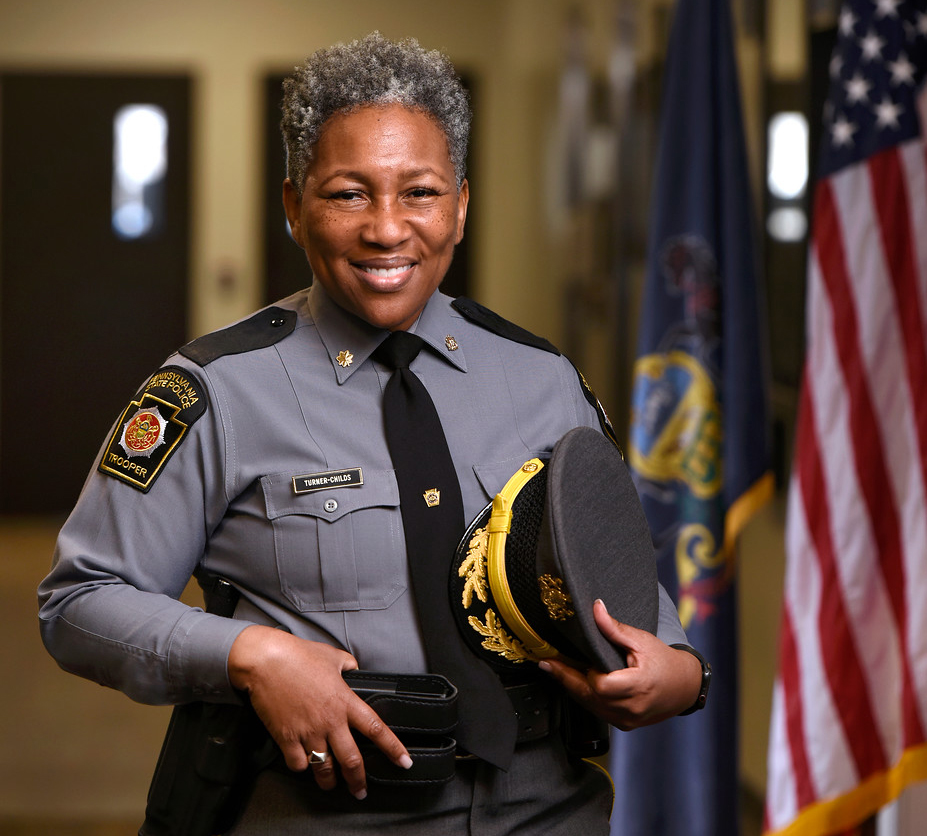 Experience #1
There's talk of a fight down the street. A 10-year-old girl runs with her friends to check out the commotion in the Allison Hill neighborhood of Harrisburg. When they get there, a young man lies in the street, bleeding from the head.
The girl hurries home and, without thinking, dials 911. She doesn't stop to ask permission, as she was supposed to do. This was a time before cell phones. As a pre-teen, she wasn't allowed to use the phone without her mother's approval.
Hours later, a police officer is knocking at the door. The girl's mother looks concerned. The officer explains that, as a matter of policy, the police must visit the site of where a 911 call originated and speak with the caller, if possible.
The mother says she didn't make the call; the young girl speaks up and says she was the one who placed the call. The officer thanks the girl and says, "Young lady, you just might have saved that young man's life."
A seed was planted that day for Kristal Turner-Childs. It would take a while before it would germinate, but she knew that—even at that young age—she wanted to work in law enforcement. "That feeling of making a difference… I knew I wanted to experience that again," says Turner-Childs.
Experience #2
Fast-forward 10 years… The young girl is now a young woman. She is heading back to college. She goes to Indiana University of Pennsylvania (IUP) in the western part of the state. It's a long drive from her home in Harrisburg. She wants to get back to her dorm. She is driving fast… 75 in a 55 M.P.H. zone.
Noticing red lights in the rear-view mirror, she thinks, uh-oh, they got me. She pulls over and waits. She's nervous. It takes forever before the state trooper exits his vehicle. He's a tall man. In his pressed uniform and wide-brimmed hat, he appears even taller. Turner-Childs rolls down the window. He asks her, "Ma'am, do you know why I pulled you over?" It's the question that every driver dreads. Do you lie or tell the truth?
She told the truth. She still got a ticket, not a warning. Yet the fine and the points didn't stay with her—it was the officer's politeness, demeanor, bearing and confidence that made an impression.
As soon as she got back to IUP, she started researching the Pennsylvania State Police. She learned that the agency was officially formed in 1905 in response to the Great Anthracite Strike. It wouldn't be until many decades later
before the first female trooper was hired in 1972. During her research, she didn't come across any African-American female troopers. Yet she remained undaunted.
Her journey to joining the state police wasn't straightforward. But these two formative and positive experiences would stay with her, serving as fuel and motivation, as she continued to move forward, picking herself up after a setback, learning new skills and gaining new knowledge, pressing on until she reached her goal of becoming a state trooper.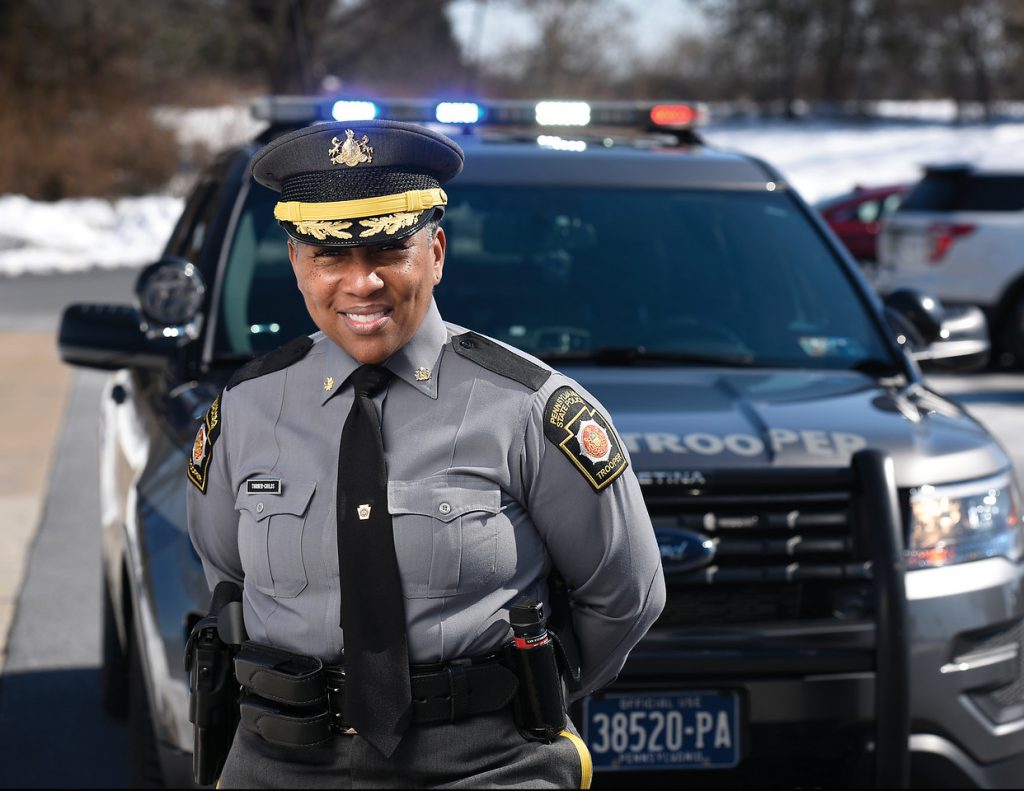 Foot in the Door
It first started with a job as a correctional officer at Dauphin County Prison. Turner-Childs was no longer a civilian; she had joined the law enforcement community. A few years later, she saw the ad to take the exam to join the state police. "It was the most difficult test I had ever taken, and I didn't score well," she says.
Turner-Childs went to work, hitting the books, so she would be ready when the exam was offered again. And she was… she made the cut, but she didn't get called. From the pool of qualified applicants, the agency will only take as many candidates—starting with the highest scores—as needed to fill current vacancies.
She continued to persist. A few years later, she took the exam again and this time she made the cut. She was one of 88 applicants chosen to undergo a 27-week, boot-camp-like training at the state police facility in Hershey. The candidates included just five females, and she was the only African-American woman.
The cadets lived on the campus in dorms and were responsible for upkeep of the facilities, including cleaning the bathrooms and the stables for the horses used by the mounted division. "It's a humbling experience, and that's okay because as a police ofcer and as a state trooper, I engage everyone in the community," says Turner-Childs.
"I can't go into a situation thinking that I'm better than someone," she continues. "As an ofcer, you're there to
help and to serve." That mentality has guided the Harrisburg native during her 21-year career in the state police. After seven years as a state trooper working in various locales throughout the commonwealth, Turner-Childs was promoted to corporal and served as recruitment section supervisor, a position she held for three years. Since then, her career has been on an upward trajectory. Over the past 10 years, she's been promoted six times, receiving four upgrades in rank:
Sergeant / Director, Equal Employment Opportunity, Office, Jan. 2009 – Sept. 2011
Lieutenant / Executive Officer, Deputy Commissioner of Administration and Professional Responsibility, Sept. 2011 – Jan. 2013
Lieutenant / Patrol Section Commander – Troop H, Harrisburg, Jan. 2013 – Mar. 2015
Captain / Director, Systems Process and Review, Division, Mar. 2015 – Feb. 2016
Captain / Trooper Commander – Troop L, Reading, Feb. 2016 – Oct. 2018
Major / Director of Forensic Services, Oct. 2018 – Present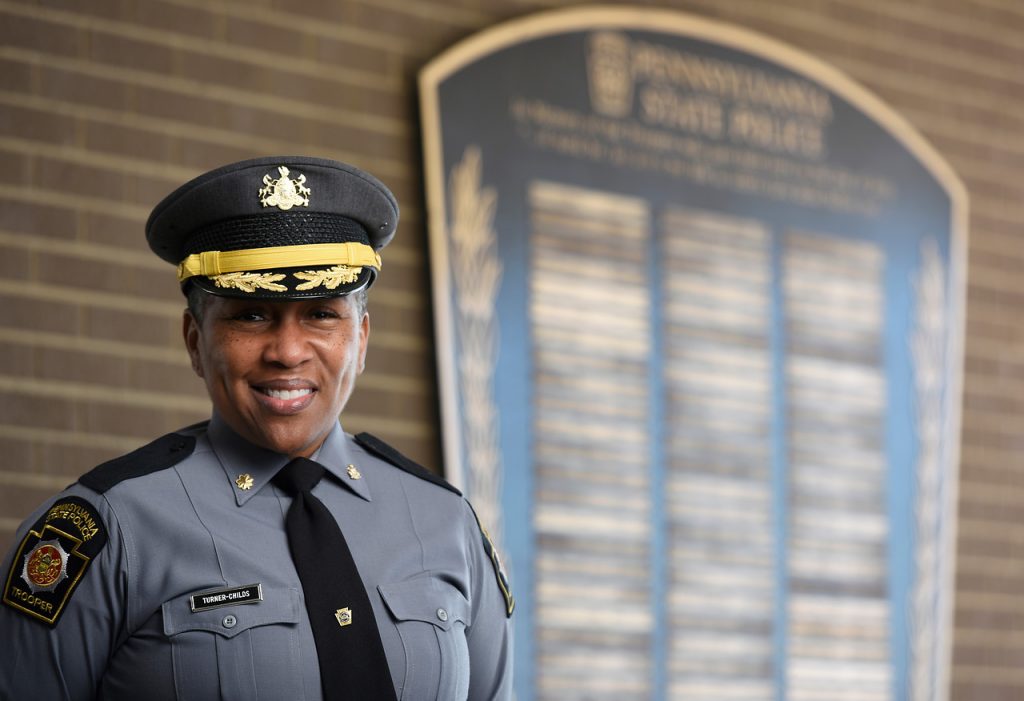 Back to School
Turner-Childs had some unfinished business regarding her education. She had left IUP before she completed her degree, so she went back and earned a bachelor's in criminal justice at Elizabethtown College in 2005. As her career went along, she knew she needed more.
"I was looking for a good master's program and had become friends with Hector Ortiz through some volunteer work and he said to check out Central Penn," said Turner-Childs. Dr. Ortiz is the director of Central Penn College graduate studies.
She ended up coming here and earning her Master's of Professional Studies in Organizational Leadership, a degree that helped her continue to build and develop skills as a servant leader. "We all come in at the same level. We're all different ages with different skills, but we learned from one another," said Turner-Childs about her experience in the master's program. "Diversity learning is the way of the world."
Running a large department requires an adaptive set of leadership skills. "I can't tell you how often I refer back to my organizational leadership studies. There will be something that happens here or somewhere else, and I find myself turning to my education at Central Penn."
Turner-Childs is the first person in her family to earn a college degree. While she doesn't have children of her own, she does have an extended family of nieces, nephews and godchildren, and they look to her for guidance and inspiration.
Due to the unpredictable nature of her work, it took her a little extra time to finish the program. But she persevered and earned the degree. "I worked hard and I knew I was going to walk," she said, referring to attending the commencement ceremony. "I didn't realize the impact I was having on them… until the video of me walking across the stage went up on Facebook," she said. She was amazed by the number of comments and likes from her extended family and those in the community.
It wasn't just the younger generation that helped inspire Turner-Childs, who was originally from North Carolina. Her mother and grandparents grew up in the segregated south, worked picking cotton and lived through the Great Depression. "There were people who went before me, so I could have these opportunities. They went through 10-times more negative things than I have. I don't take that lightly," said Turner-Childs.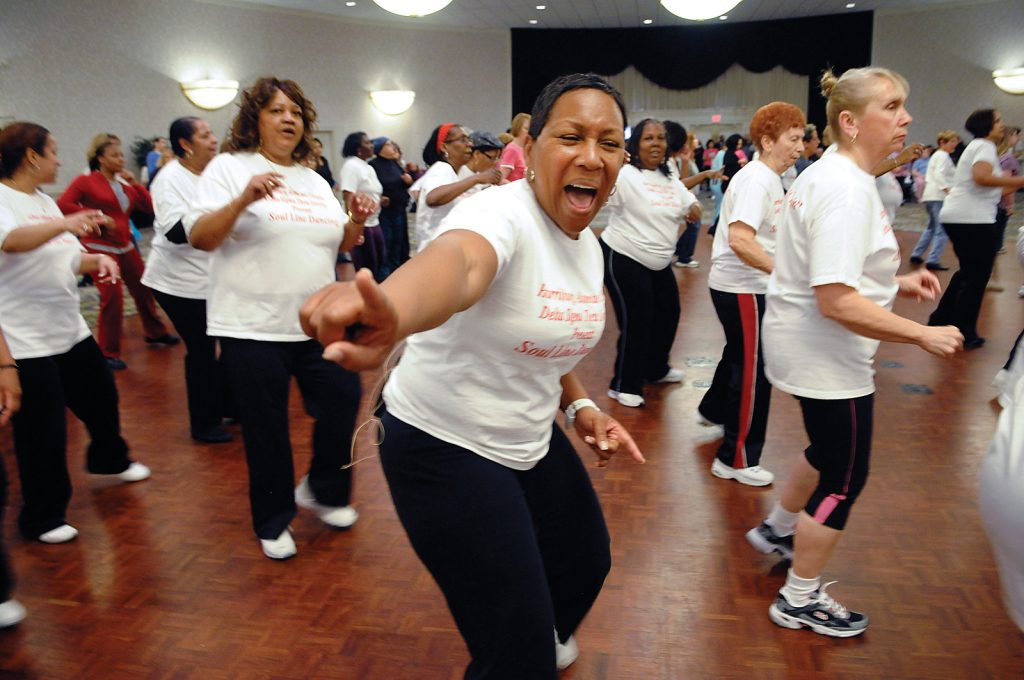 The challenge of Leadership
Prior to her current position, Turner-Childs was the commander of Troop L in Reading. She was the first African-American woman to serve in the position as
trooper commander in the history of the state police.
There was initially some skepticism—and perhaps resistance—from the nearly all-male, all-white workforce. "I recognize that people don't always see change as an opportunity, and I view that attitude as an opportunity," she said.
During her time at Reading, Troop L made a $20 million drug bust in March 2018. A month later, they broke up another drug gang, seizing cash, drugs and weapons, including a rocket launcher and pipe bombs.
She sums up her leadership philosophy thus. "If we stay humble as servant leaders, we allow diversity of thought to come into our lives and then we are able to get things done as a team."
Giving Back
Turner-Childs is active in her community. A member of Delta Sigma Theta sorority, she was instrumental in starting a line-dancing class 12 years ago at the Boys and Girls Club of Harrisburg on Berryhill Street. "We started it as a fun exercise program for women and it's turned into a whole family experience," she said, mentioning that participants bring their children, spouses and other family members.
In addition, that one dance class has led to other events, such as a diabetes awareness fair, health screenings, support groups and days of service.
She also is the founder and CEO of Eyes Wide Open, a nonprofit group that focuses on connecting physical health to mental and spiritual well-being.
Her current workshops include "I'm Not SUPERWOMAN," "Rise Up: A Call to Leadership" and "Keep Your Eyes Wide Open."
"I like living my life, believing I can help people,"
she said. "I wake up thinking, brand new day, brand
new opportunity."