Three Recession-Proof Fields to Train for in 2023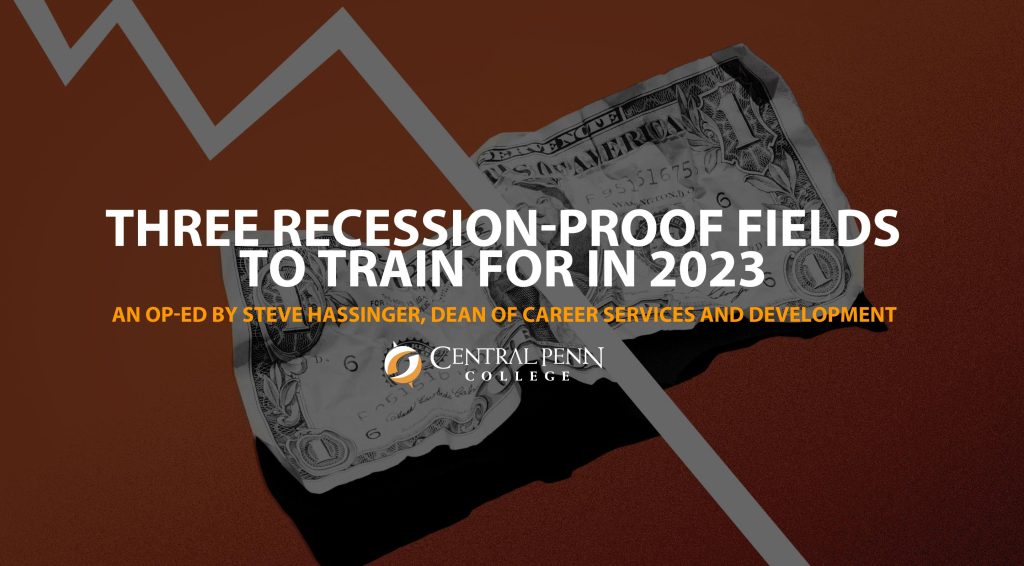 As our energy bills soar and our retirement accounts shrink, a recent report delivers some good news for three growing fields that are predicted to be virtually recession-proof in 2023.
Is your current job among them, or should you be training for a new career in one of these expanding fields in the new year?
According to the National Association of Colleges and Employers, (NACE) in their just-released "2023 Job Outlook" survey — which forecasts the intentions of employers seeking college students—job-creators in the information technology, management, and finance fields seem unfazed by the risk of a possible recession. In fact, they indicated that they are not planning to put the brakes on hiring; nor are they planning to lay workers off.
The fields with a less rosy outlook in 2023 include retail jobs, food service, and manufacturing, according to the report.
For Central Penn College, these economic predictions mirror our educational offerings. This alignment is especially noteworthy, as many employers have been lamenting the "skills gap" for decades, noting that today's job-seekers are not well-prepared for today's and tomorrow's jobs.
It is good to note that Central Penn's business and information technology programs are extremely strong, as are our allied healthcare offerings. In August 2021, Central Penn College was recognized as having the #4 most popular online Business Administration bachelor's degree program in Pennsylvania. The year before, CPC was recognized as having the #1 Entrepreneurial Studies associate degree program in both Pennsylvania and the region.
In Nov. 2021, Central Penn College was recognized for having a top 20 best value accounting program in the Middle Atlantic region, and as having the #1 Marketing Associate Degree program in Pennsylvania, according to BusinessDegreeCentral.com. And the list goes on.
Fortunately for our students, Central Penn College classes are taught by professors with real-world experience who are frequently still working in the field.
Central Penn offers motivated students the opportunity to earn a degree in an accelerated fashion, leading to greater employability in a solid career in as little as a year and a half.
The new survey validates our focus on associate degrees, with the hiring of workers with associate degrees now up 56% in 2022-23. It also underscores our focus on bachelor's degrees, with 55.2% of companies planning to increase bachelor's degree salaries in 2023.
To learn more about how to train for a resilient career that is likely to withstand a recession, in this turbulent economy and disrupted marketplace, please visit www.centralpenn.edu. And to see the entire report, visit www.naceweb.org.
As anxiety escalates alongside our monthly bills, I am reminded of R.F. Harrods' 1948 book, which still holds true in 2022: "The most basic law of economics, (is) namely that one cannot get something for nothing."
It is time to invest in education, to reap long-term rewards in terms of salary, stability, and satisfaction.
We are pleased to partner with employers and other educators to brighten the Jobs Outlook for 2023.
Op-ed by Steve Hassinger, Dean of Career Services and Development