UPMC and Central Penn College Partner on Medical Assisting and Phlebotomy Technician Programs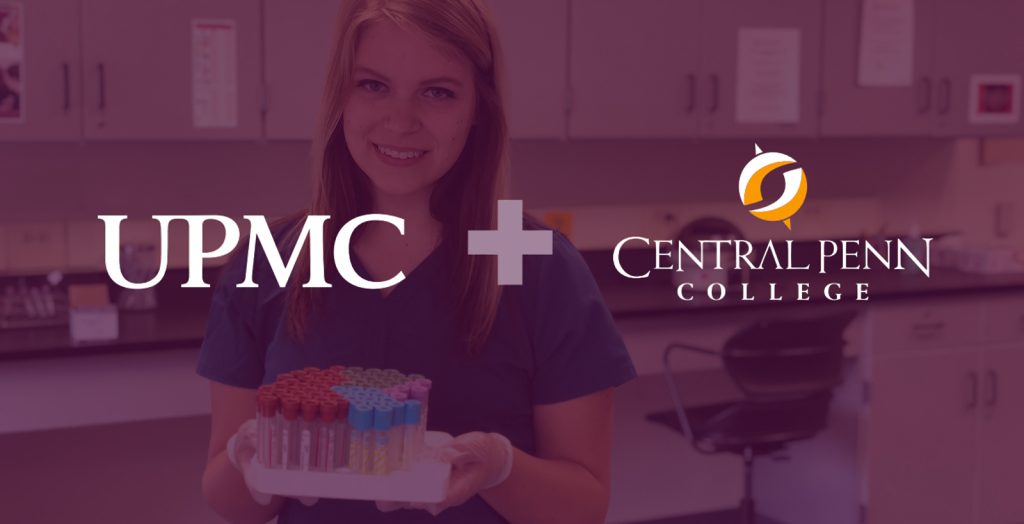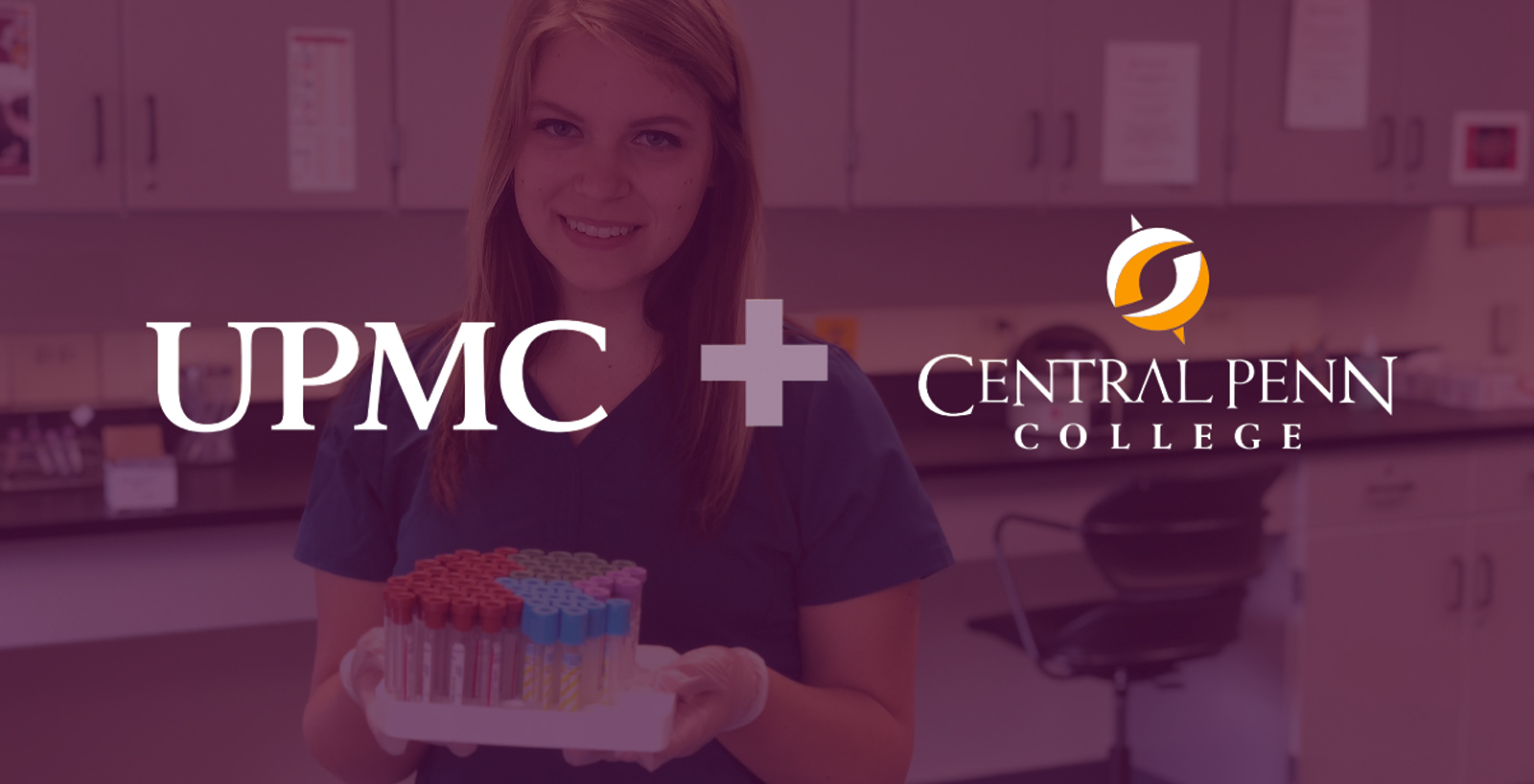 Graduates who fulfill the UPMC work commitment will receive payments the equivalent of the cost of the programs in addition to their salaries.
UPMC, UPMC Pinnacle Foundation, and Central Penn College are working together once again to develop the next generation of health care professionals in the region. In February, they rolled out an innovative Surgical Technician Program in which students who successfully complete the program and are hired by UPMC will receive payments equivalent to the full cost of the program in addition to their salary.
Now the three organizations are offering a similar initiative for students seeking careers in the fields of Medical Assisting and Phlebotomy.
"Phlebotomists and medical assistants are much-needed members of the health care team, providing a wide range of crucial services to patients," said Lou Baverso, chief operating officer, UPMC in Central Pa. "It is a need in our communities, and we hope this will help fill it. We're very happy to partner with Central Penn College to support these programs and provide a high-quality education at potentially no final cost to the student."
As part of this initiative, Central Penn College will offer a new 12-month, 30-credit, Medical Assisting Diploma Program that requires students to attend full-time, in-person classes on the college's Summerdale campus. The Phlebotomy Technician Certificate is an existing 9-month, part-time program that includes a mix of online and in-person classes.
The Role of Phlebotomists and Medical Assistants
Phlebotomists and phlebotomy technicians play a vital role in the administration and management of blood draws for diagnosis, transfusion and research purposes. Medical assistants are talented, versatile health care professionals who perform both clinical and administrative duties.
Opportunity to Receive Payments Equivalent to the Cost of the Programs
Through an innovative combination of funding from UPMC, Central Penn College, and UPMC Pinnacle Foundation, program graduates who work at UPMC will receive payments in addition to their salaries equivalent to the cost of the programs. Students must complete at least two years of the work requirement at UPMC facilities in the Central Pa. region.
As an added benefit, students also can work in a variety of full- and part-time positions that can accommodate their studies. "We will help interested students find the right position for them to work in a health care setting," added Baverso.
Central Penn College is making the CPC Housing Scholarship––valued at $5,800 a year–– available to all qualifying medical assisting enrollees who attend full-time. Students in the part-time Phlebotomy Technician program are eligible to receive a partial housing scholarship.
"This initiative is an excellent opportunity for students looking to work in the growing health care field," said Dr. Krista Wolfe, vice president of Academic Affairs and provost at the college. "Whether you're a recent high school graduate or someone ready to make a career change, you could be employed as a medical assistant or phlebotomy technician within 12 months or less. And your tuition could be fully reimbursed, thanks to this innovative partnership."
Bright Future, Growing Professions Phlebotomy is a burgeoning health care field. Jobs for phlebotomists and phlebotomy technicians are expected to grow 22% through 2030, according to the Bureau of Labor Statistics.
Jobs in Medical Assisting (MA) are expected to grow 19% through 2029, according to the Bureau of Labor Statistics.
UPMC and Central Penn College have partnered on other initiatives, including continuing education and workforce training for UPMC staff, clinical experiences at UPMC facilities for Central Penn College students, and job placement for graduates.
"Through this and other partnerships, Central Penn College and UPMC are making it easier for people to pursue rewarding careers in health care, while having their tuition completely paid for," said Dr. Linda Fedrizzi-Williams, president of Central Penn College.
Requirements
Prospective students for the Phlebotomy Technician certificate must have a minimum GPA of a 2.2 from the last school attended or have a passing GED score to be considered for acceptance.
They must have successfully completed two sciences (C or higher) and one math course (C or higher) in high school or college. Special transfer considerations are available for Veteran students in the Phlebotomy Certificate program.
Applicants for the Medical Assisting Diploma program must have a minimum GPA of a 2.0 from the official transcripts from the last school attended to be considered for acceptance. GED scores will be accepted.
For the full list of requirements, visit www.centralpenn.edu/UPMC.
Deadline to Enroll in First Term Is June 30
Classes will start Tuesday, July 5. Due to the medical nature of these programs, students will receive hands-on, experiential learning as part of the required, in-person classes. The first term enrollment is limited to 20 students for each program. The deadline to apply is Thursday, June 30.
Upcoming Information Sessions
UPMC and Central Penn College are holding several virtual events, and an in-person event, over the next several weeks to share information with prospective students about the programs:
Admission counselors will answer questions regarding the programs, including how students––through scholarships and post-graduate reimbursements––can receive full tuition for their education through this unique partnership between UPMC and Central Penn. To apply or learn more, go to www.centralpenn.edu/UPMC.
About UPMC
A $23 billion health care provider and insurer, Pittsburgh-based UPMC is inventing new models of patient-centered, cost-effective, accountable care. The largest nongovernmental employer in Pennsylvania, UPMC integrates more than 92,000 employees, 40 hospitals, 800 doctors' offices and outpatient sites, and a more than 4 million-member Insurance Services Division, the largest medical insurer in western Pennsylvania. In the most recent fiscal year, UPMC contributed $1.7 billion in benefits to its communities, including more care to the region's most vulnerable citizens than any other health care institution, and paid more than $900 million in federal, state, and local taxes. Working in close collaboration with the University of Pittsburgh Schools of the Health Sciences, UPMC shares its clinical, managerial, and technological skills worldwide through its innovation and commercialization arm, UPMC Enterprises, and through UPMC International. U.S. News consistently ranks UPMC Presbyterian Shadyside among the nation's best hospitals in many specialties and ranks UPMC Children's Hospital of Pittsburgh on its Honor Roll of America's Best Children's Hospitals. For more information, go to UPMC.com.
About Central Penn College
Central Penn College provides students with the educational foundation to turn potential into professional success. Since 1881, the college has been a leading source for delivering career-focused education to students in Pennsylvania and beyond. With locations in Summerdale and Lancaster, Central Penn College offers associate, bachelor's and master's degrees and certificate programs in a variety of professional fields. For more information, visit www.centralpenn.edu.