UPMC and Central Penn Partner on New Surgical Technician Diploma Program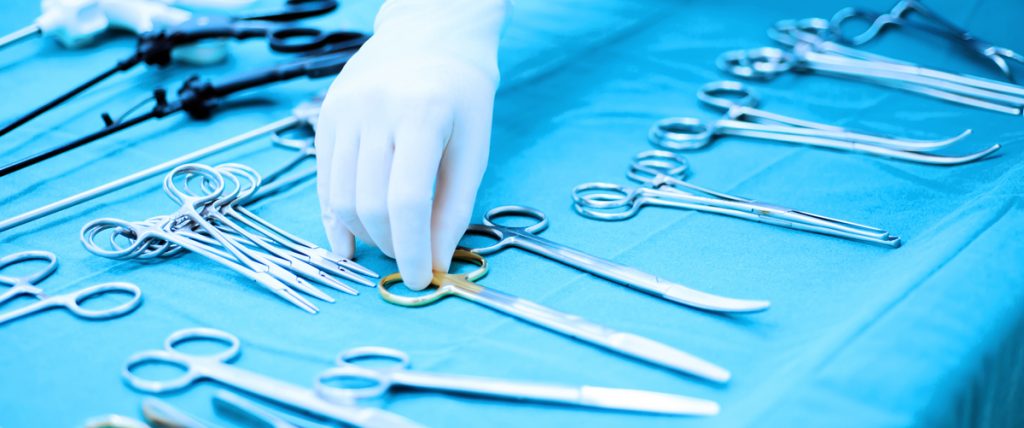 Graduates who fulfill the UPMC work commitment will be reimbursed for all diploma tuition costs
UPMC, UPMC Pinnacle Foundation, and Central Penn College are working together to bring more skilled surgical technicians to the region. In addition to making a meaningful impact in the community, students who successfully complete the program and are hired by UPMC will receive financial assistance up to full reimbursement of all diploma tuition costs.
"This is an exceptional opportunity to pursue an education with Central Penn College, a leader in delivering career-focused education, followed by a fulfilling health care career at world-class UPMC," said Lou Baverso, chief operating officer, UPMC in Central Pa. "All at potentially no final cost to the student."
The Role of Surgical Technicians
Surgical technicians perform a variety of activities that assist doctors during surgery, including sterilizing and setting up equipment, positioning patients for procedures, handing instruments to doctors during surgery, and preparing operating rooms for patients.
The Surgical Technician Diploma Program offered by UPMC and Central Penn College will start on April 4 at the college's Summerdale campus. The 18-month, 42-credit program will prepare students to work as surgical technicians in an operating room setting at hospitals and surgical centers.
Opportunity to Receive Full Tuition
Through an innovative combination of funding from UPMC, Central Penn College, and UPMC Pinnacle Foundation, students who work at UPMC for three years following graduation will have the full tuition cost of the diploma program reimbursed. Students must complete at least two years of the work requirement at UPMC's facilities in the Central Pa. region.
"Diploma students also have the opportunity to work with UPMC during their education," said Baverso. "A variety of full- and part-time positions are available that can accommodate their studies. We will help find the right position for any interested students who wish to work."
Central Penn College also is making the CPC Housing Scholarship available to all qualifying Surgical Technician Diploma and AAS Program enrollees who choose to live on campus, valued at $5,800 a year.
"Local hospitals are growing their surgery programs, and surgical services are becoming increasingly advanced, requiring skilled technicians to support surgeries," said Dr. Krista Wolfe, vice president of Academic Affairs and Provost, Central Penn College.
Bright Future, Growing Profession The median annual wage for surgical technicians was $49,710 in May 2020. Jobs in the surgical technician field are projected to grow by 9% from 2020 to 2030, according to the Bureau of Labor Statistics.
"The job market for new health care graduates has never been better," said Jessica Ritchie, vice president of development, UPMC Pinnacle Foundation. "The foundation is pleased to give $75,000 to launch this program and support health care education in our region, as well as over $165,000 in tuition support to UPMC to help grow the central Pa. skilled workforce and encourage students to pursue this valued field."
UPMC and Central Penn College have partnered on other initiatives, including continuing education and workforce training for UPMC staff, clinical experiences at UPMC facilities for Central Penn College students, and job placement for graduates.
"Central Penn College and UPMC are making a commitment to our community by creating the opportunity for people to pursue rewarding careers in health care and have their education completely paid for," said Dr. Linda Fedrizzi-Williams, president, Central Penn College.
Surgical Technician Diploma Requirements
To qualify for the program, students must be a high school graduate with a GPA of at least a 2.5, or a GED recipient with a score of 500 (score of 50 prior to 2002). They also must have successfully completed two sciences (C or higher) and one algebra course (C or higher) in high school or college. For the full list of requirements, visit www.centralpenn.edu/UPMC.
Deadline to Enroll in First Term Is April 3
The classes will start Monday, April 4, and the first term's classes will be a mix of online and in-person courses. The 18-month program is designed as hybrid program with a mix of in-person and online classes, and a clinical internship required at the program's conclusion.
Due to the medical nature of the diploma program, students will receive hands-on, experiential learning as part of the required, in-person classes.
The first term enrollment is limited to 15 students. UPMC and Central Penn College are holding several virtual events, and an in-person event, over the next several weeks to share information with prospective students about the program:
Feb. 15: Virtual Visit: 10 to 11 a.m.
March 2: Virtual Visit: 5 to 6 p.m.
March 16: In-Person Lunch and Learn: Noon to 1:30 p.m. The Conference Center at Central Penn College, 600 Valley Rd, Summerdale, Pa. 17093
Admission counselors will answer questions regarding the Surgical Technician Diploma program, including how students––through scholarships and post-graduate reimbursements–– can receive full tuition for their education, thanks to this unique partnership between UPMC and Central Penn. To apply or learn more, go to www.centralpenn.edu/UPMC.
About UPMC
A $23 billion health care provider and insurer, Pittsburgh-based UPMC is inventing new models of patient-centered, cost-effective, accountable care. The largest nongovernmental employer in Pennsylvania, UPMC integrates more than 92,000 employees, 40 hospitals, 800 doctors' offices and outpatient sites, and a more than 4 million-member Insurance Services Division, the largest medical insurer in western Pennsylvania. In the most recent fiscal year, UPMC contributed $1.7 billion in benefits to its communities, including more care to the region's most vulnerable citizens than any other health care institution, and paid more than $900 million in federal, state, and local taxes. Working in close collaboration with the University of Pittsburgh Schools of the Health Sciences, UPMC shares its clinical, managerial, and technological skills worldwide through its innovation and commercialization arm, UPMC Enterprises, and through UPMC International. U.S. News consistently ranks UPMC Presbyterian Shadyside among the nation's best hospitals in many specialties and ranks UPMC Children's Hospital of Pittsburgh on its Honor Roll of America's Best Children's Hospitals. For more information, go to UPMC.com.
About Central Penn College
About Central Penn College Central Penn College provides students with the educational foundation to turn potential into professional success. Since 1881, the college has been a leading source for delivering career-focused education to students in Pennsylvania and beyond. With locations in Summerdale and Lancaster, Central Penn College offers associate, bachelor's and master's degrees and certificate programs in a variety of professional fields.