Alumni Adventures: Iceland Day 4
The featured element of the Day 4 schedule was the Blue Lagoon and the lava fields of Iceland's Southwestern most coast.
Our travelers gathered up their bathing suits, put on three layers of clothing, and boarded the bus at 9:45 a.m. with the wind blowing and whipping, making the air feel much colder than 30 degrees.
The Blue Lagoon harnesses the amazing natural and abundant supply of hot water available in Iceland because of its position over volcanic activity. The Lagoon is human-made and designed to harness the power of seawater, silica, algae, and heat. To learn a great deal more direct from the source, visit the Blue Lagoon about us page.
Most of us did not know what quite to expect of the Blue Lagoon. During the hour ride on the bus we were given a list of do's and don'ts. For example, do not rinse your eyes with the lagoon water. Do not overexpose your hair to the water. Do have a great time. Do your best to relax. Do take advantage of the free mud mask. Do explore the saunas and steam showers. Do shower thoroughly before and after the lagoon.
On the way to the Blue Lagoon, we saw many natural laval fields and learned the extent to which this portion of Iceland's landscape resembles that of the moon. So much so, U.S. astronauts headed to the moon train on the Icelandic landscape.
Around 11:00 a.m., we arrived to the Blue Lagoon.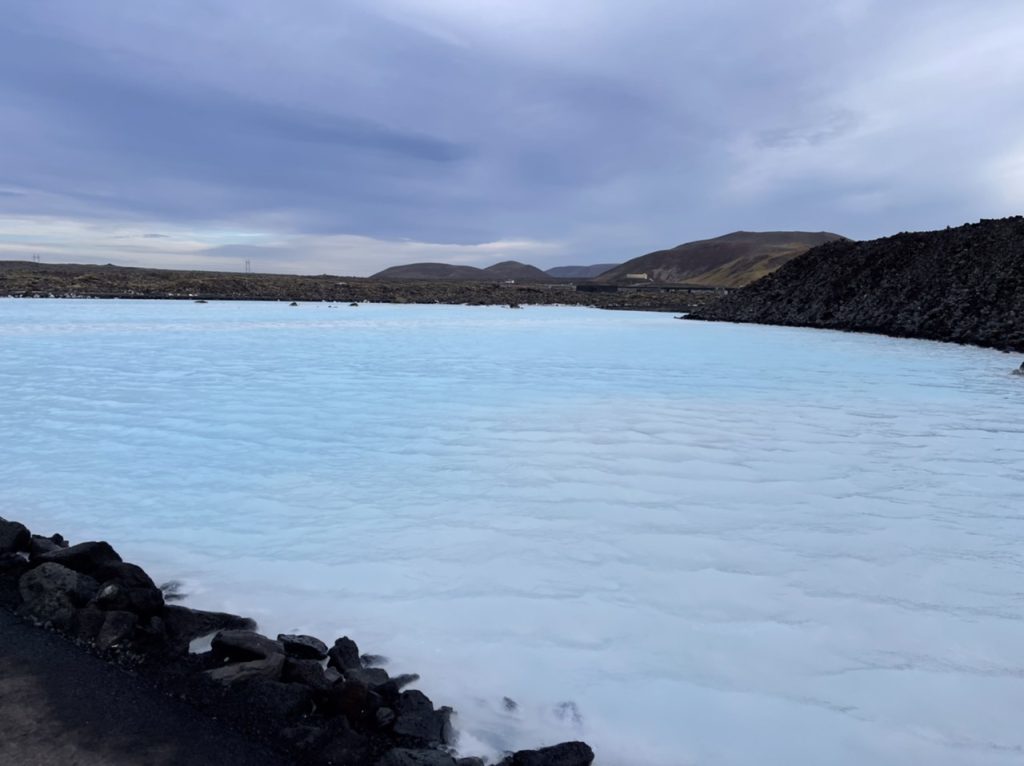 Upon check in, we were given RFID wristbands like the FastPass bands you receive at HersheyPark or Disney. This wristband would be how we received complimentary drinks, lock and unlock our lockers, and make additional purchases without carrying around credit cards or cash or phones within the Lagoon.
Men and women separated into locker rooms, changed into swimwear and exited into a exit area with two options: a ramp into the blue silica water indoors or a door to exit directly into the crisp, windy Iceland air to enter the lagoon.
I chose the ramp and was pleasantly surprised to feel the soft, hot blue water welcome me. It was not slimy or dirty. At the end of ramp was a half-submerged door that swung through the water to lead me to the outdoor portion of the lagoon. I pushed the heavy door open through the water and walked hunched through the waste-deep water to keep my shoulders submerged in the hot waters.
I was mesmerized to see the cold wind blowing the hot steam off the lagoon and hundreds of visitors from around the world and Iceland lounging and laughing. The waters deepened as I explored and soon found Serena looking for me. She had entered through the other entrance by walking through the doors and walking down the icy stairs into the lagoon.