Central Penn College's Combat Hunger Campaign Exceeds Goal
Proceeds will benefit 10 Local Food Banks
After 11 weeks of fundraising, collecting donations and volunteering, the results for Central Penn College's KnightQuest: Combat Hunger are in. The philanthropic campaign––powered by 25 teams of students, employees, alumni and community members––raised $7,400, collected more than 3,000 donated items and contributed over 100 volunteer hours to fight food insecurity in central Pennsylvania.
The original monetary goal for Combat Hunger was $4,500, which the campaign surpassed by nearly $3,000. Each team competing in KnightQuest earned points based on funds raised, donated items collected and volunteer hours logged.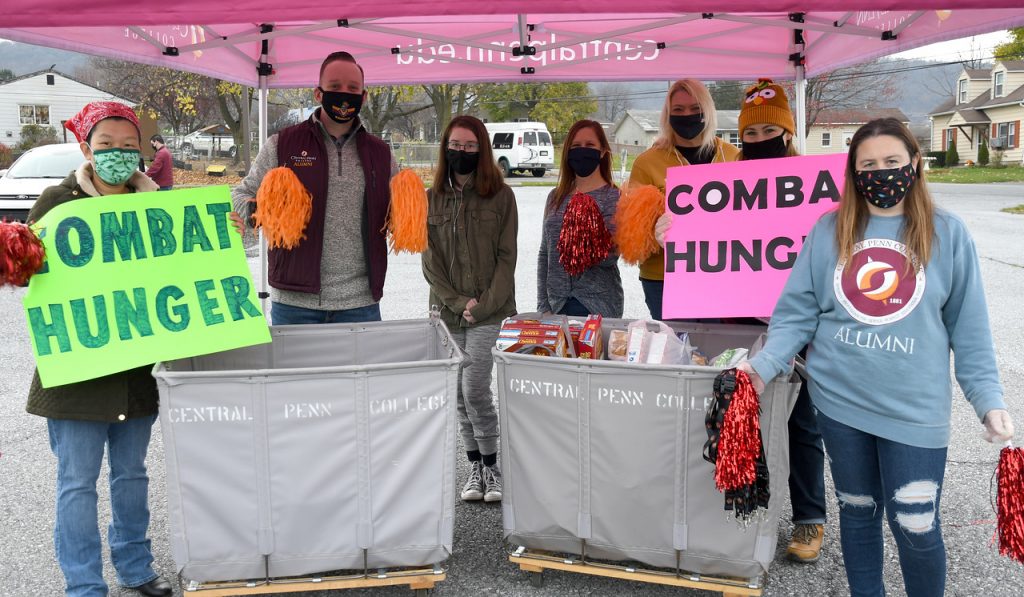 "I am so proud of our college community," said Dr. Linda Fedrizzi-Williams, president of Central Penn College. "In the midst of a global pandemic, our students, faculty, staff and alumni stepped up in a big way for those who are struggling with food insecurity in this area."
The proceeds from KnightQuest: Combat Hunger will benefit the following food banks and pantries:
Central Penn College Food Pantry (food only)
East Pennsboro Panther Pack
Lancaster County Food Hub
Lebanon County Christian Ministries
New Hope Ministries
Perry County Food Bank
Project Share
Salvation Army of Harrisburg
South Central Community Actions Plan
York County Food Bank
Many Partners
"Food insecurity is a growing problem, especially in today's COVID-impacted economy," said Michael Fedor, vice president of advancement and strategic initiatives at the college. "No community is immune, and we are glad to partner with so many organizations working to make a difference throughout central Pennsylvania."
Monetary and food donations will be delivered to the area food banks and pantries over the next several weeks prior to the Christmas holiday. Due to COVID restrictions, some food banks are not currently accepting outside food donations.
"There are so many people and organizations in our region working to make things better, and I'm extremely happy that the Central Penn College community could be part of those efforts," said Fedrizzi-Williams. "Thank you to everyone who participated in KnightQuest: Combat Hunger."
For those interested in contributing, donations are still being accepted at: https://givebutter.com/impact-centralpenn.