Central Penn Ranked 2nd Most Affordable Legal Studies Program in PA
Central Penn College has been recognized as one of the 100 Best Most Affordable Legal Studies Programs in the nation by UniversityHQ.org, a website devoted to providing resources on colleges and universities throughout the United States. The college's ABA-approved legal studies program is the second-highest ranked in Pennsylvania and the highest in PA outside of Philadelphia.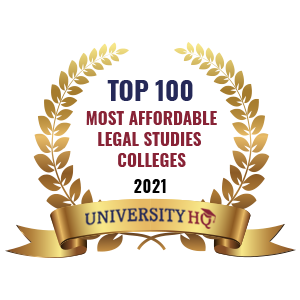 "We are honored to receive this recognition," says Robert Donley, Central Penn's Program Director of Legal Studies. "Our Legal Studies bachelor's and Paralegal associate degree programs are known throughout the region for preparing students to excel in the paralegal profession, and the bachelor's program also provides a great head start for students who want to enter law school."
"If you want to succeed as a paralegal, you couldn't ask for a better education," says Donley. "Our programs fully immerse our students in the world of law, and our faculty of practicing and retired lawyers is dedicated to helping our students succeed academically and professionally."
Legal Careers – Opportunities Start Here
The college's Bollinger Hall houses the DeLeo Law Library and Courtroom, named after the retired professor and program director John D. DeLeo. These rooms provide students with the facilities needed to conduct legal research and mock trials, both considered an integral part of their paralegal education.
The bachelor's program also provides students with the academic credentials and preparation they need to enter law school. In 2020, the college began offering an innovative 2+3 Program in conjunction with Widener University Commonwealth Law School. This program enables students to complete their bachelor's degrees while earning their law degrees at Widener, saving them both time and money.
The Legal Studies and Paralegal programs at Central Penn College are approved by the American Bar Association, and this approval process requires that nine credits of legal specialty courses are taken in a traditional classroom format. Non-attorneys may not provide legal services directly to the public except as permitted by law.
Central Penn College's fall term begins on Oct. 4. To apply or to learn more, go to: www.centralpenn.edu/legal.