Nate Moore built a Career with his Physical Therapist Assistant degree
Nate Moore knows Central Penn College well. He grew up "literally right across the street in Summerdale." He watched the college transform from a business school to a four year college and later returned for his physical therapist assistant (PTA) degree.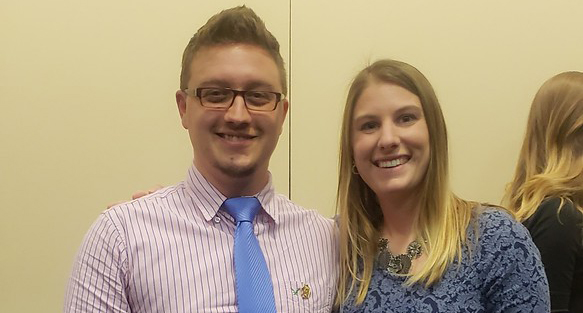 Like many high school seniors, he decided to go away to college. He went to Slippery Rock University in western Pennsylvania and earned a bachelor's in athletic training. Once he graduated, he worked as an athletic trainer and/or physical therapist aide for a number of local companies and organizations, including Drayer Physical Therapy, Northern York School District, West Christian Academy and Cardin & Miller Physical Therapy.
While Moore enjoyed the work, the pay wasn't what he hoped it would be. After 10 years in the field, he decided it was time for a change. He enrolled in the physical therapist assistant (PTA) program at Central Penn College, the same institution he had watched "grow and evolve," when he was a boy and a teenager.
We caught up with the Summerdale native via email and talked with him about his experience at Central Penn and beyond…
What inspired you to become an athletic trainer (AT)?
NM: It began when I was an athlete in high school. I never had any catastrophic injuries, but was in the athletic training room a few times and enjoyed the exercise/medical aspects of the field.
How did you become interested in a career as a physical therapist assistant (PTA)?
NM: While in school for AT, I was recommended to a physical therapy company to get hands-on experience in the medical field. How I exactly fell into PTA is relatively short. I toyed with the idea to go back to physical therapy school, but couldn't afford not working for three years… being married (since 2011) and needing to help provide at home.
So PTA was the answer to help make money and still do what I love doing, working with patients and helping them get better. Physical therapy and the hands-on rehabilitation field in general feels very rewarding… watching patients achieve their goals… getting to know them on a personal level… seeing them multiple times a week and getting to know their friends who come into the clinic, as well.
Why Central Penn College?
NM: Central Penn was a good option for me due to the location and availability to work part-time or full-time while going to school. Classes in general weren't a far stretch from what I was already doing on a day-to-day basis and what I learned in undergrad at Slippery Rock, which made it an easy transition to both work and go to school simultaneously.
Can you talk about your experience at Central Penn?
NM: The physical therapy world is a fairly small community in the central Pa. area. Dr. Casale was already a close friend of mine from working together previously. I had many mutual friends with my professors. So the small class sizes were good to work with and were similar to what I was used to when I was at Slippery Rock.
Growing up literally across the street in Summerdale, I watched the college grow and evolve from a business school to Central Penn College. It was cool to see how much the school had grown and be able to be a part of that culture.
Did you have favorite professors? Fellow students?
NM: My classmates and I were able to get along very well and still keep in touch pretty regularly, and it was through a classmate that I found my current job at Madden. I enjoyed most of the classes I had because my professors were down to earth and easy to get along with.
As I mentioned earlier, I already knew Dr. Casale and had met Dr. Patterson prior to coming to Central Penn. Also, meeting Instructor Taylor Lentz was fun for our class and I think for her, being her first class, as well as having similar life experiences.
If someone were thinking about coming to Central Penn for PTA, what would you tell that person?
NM: I have already recommended Central Penn to many friends and coworkers due to the relatively small class sizes, location and ease of being able to work full/part time.
I definitely recommend that prospective students either set up a meeting with a PTA staff member, or attend the PTA open houses to get an idea of what you need to do before applying and know what is expected of you as a student.
Anything else you would like to add?
NM: The physical therapy world is a very small community, someone will know someone and networking can go a long way. Keeping options open and making friends from all aspects/areas can do wonders with getting into a job and having a foot in the door.