Start Your Success Story Here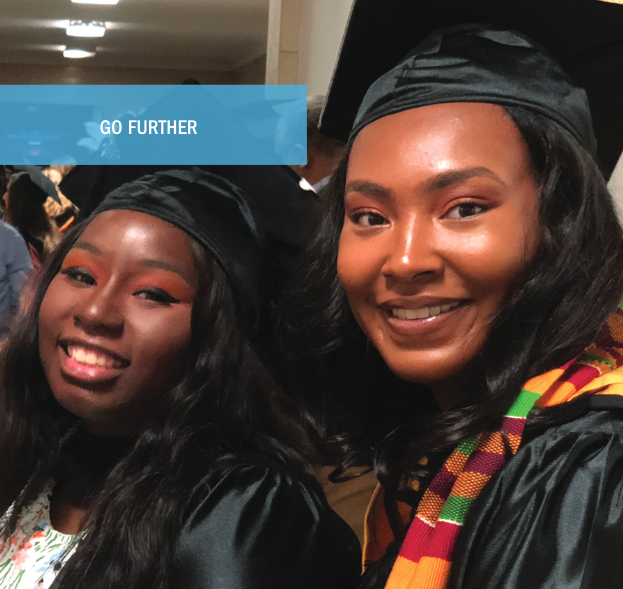 Career-focused programs in high-demand professions
Campus experience with a sense of community
Flexibility for all types of students
Opportunities to start careers sooner
Caring, knowledgeable professors with real-world experience
More than $650,000 in scholarships awarded each year
Did we mention free housing for new residential students? You can receive up to $5,800 in savings during your first academic year… when you live in one of our super suites.
Loved Central Penn. I had a great educational experience. The accelerated program allowed me to reach my educational goals faster than I expected.

Kimberly Craig '18, Healthcare Management

Academic Programs
Day, evening, in-person, online and hybrid class formats**
Accelerated, 11-week terms
MASTER OF PROFESSIONAL STUDIES DEGREE PROGRAM – 1 1/2 YEARS*
Organizational Leadership
with a concentration in:

Financial Analysis
Organizational Development
BACHELOR OF SCIENCE
DEGREE PROGRAMS – 3 YEARS, PLUS AN INTERNSHIP*
Accounting
Business Administration with a concentration in:

Banking & Finance
Healthcare Administration
Human Resource Management Management
Marketing

Corporate Communications
Criminal Justice Administration
Health Science
Healthcare Management**
Homeland Security Management
Information Technology with a concentration in:

Applications Development
Networking and Security

Legal Studies
ASSOCIATE IN APPLIED SCIENCE DEGREE PROGRAM – 15 MONTHS, PLUS AN INTERNSHIP*
ASSOCIATE IN APPLIED SCIENCE DEGREE PROGRAMS – 21-22 MONTHS, PLUS AN INTERNSHIP*
Occupational Therapy Assistant (OTA)
Physical Therapist Assistant (PTA)
ASSOCIATE IN SCIENCE
DEGREE PROGRAMS – 18 MONTHS, PLUS AN INTERNSHIP*
Accounting
Communications
Computer Information Systems
with a concentration in:

Applications Development
Networking and Security

Criminal Justice
Entrepreneurship & Small Business
Marketing
Paralegal
POSTSECONDARY CERTIFICATE PROGRAM – 9 MONTHS
*Not all programs are offered at every location.
The undergraduate program length is designed for students who are enrolled full time and complete and pass every course required for graduation in the specified time frame. The graduate program length is designed for graduate students who are enrolled part time and successfully complete six consecutive terms. The postsecondary certificate program length is designed for students who are enrolled part time and successfully complete three consecutive terms.
** Degree completion program
ENJOY THE EXPERIENCE
Our 58-acre main campus is located
in Summerdale, just minutes from Harrisburg, the capital of Pennsylvania. The location lends itself to day or weekend trips to nearby cities, such as Philadelphia, New York, Baltimore and Washington, D.C
CAMPUS LIVING
New students are eligible to receive free campus housing during their first academic year. Our recently renovated super suites––which are open to first-year students––contain many popular features including single bedrooms, comfortable and modern furniture, technology ports and a roomy gathering space.
Our picturesque grounds feature walking paths, an in-ground swimming pool, arboretum, outdoor amphitheater with a firepit, recreation areas, and historic Henszey's Bridge—originally built in 1869—that connects the newer Advanced Technology Education Center (ATEC) with the rest of the campus.
The Underground is our student center, and includes a dance studio, fitness center, student lounge, Student Government Association office and the 250-seat Capital BlueCross Theatre for performances and student activities.
The Summerdale campus is a hub
of activity throughout the year. There's always something going on, including movies, plays, exercise classes, business workshops, community service projects and special events, such as late-night breakfast parties, bonfires, discussions at the Diversity Center, guest speakers, wing nights and organized trips to
local attractions.
CLUBS AND ORGANIZATIONS*
You can join any number of campus clubs and organizations or begin a new one in your area of interest. Currently, there are nearly two dozen clubs active on campus. For a complete list, visit centralpenn.edu/clubs.
*Clubs and organizations are subject to change based on student interest.

Our athletic program includes intercollegiate, intramural and community sports. The Central Penn Knights compete in the U.S. Collegiate Athletic Association (USCAA Division II), a national conference that allows smaller schools to play schools within the conference and in every NCAA Division. You can check on schedules and stats at centralpennknights.com.
MEN'S TEAMS*
Baseball
Basketball
Soccer
*Teams subject to change based on student interest.
For the last eight years, the men's basketball team has been ranked among the top 10 schools in the USCAA, qualifying for the national tournament each year. In the 2015–2016 season, the team made it all the way to the championship game.
In 2017, the baseball team was ranked among the top 13 schools in our conference reaching the USCAA National Tournament in Glen Falls, NY. In 2018, the squad set a school record for wins, with three players earning Academic All-American status.
Entering their third season in 2018, the Lady Knights' soccer team was nationally ranked in the USCAA top 10 for the first time, peaking at #5. This was also the first winning record in the program's short history.
YOUR SUCCESS IS OUR PRIORITY
In addition to guidance from faculty members and advisors, support will flow from tutors, staff members, administrators and other students.
ACADEMIC RESOURCES
The Student Success and Advising Center is the centralized hub for outreach, information and resources to support your success from enrollment to graduation. The center helps students not only navigate the college experience but also thrive academically, professionally and personally.
The Learning Center offers a collaborative space where you can develop your writing, math, accounting and general education skills with the help of a writing assistant or tutor.
The Legal Library serves as a valuable resource for students in the legal studies, paralegal and criminal justice programs.
The college features individual labs
and specialized facilities for a variety
of programs, including allied health, information technology and legal studies. Academic instruction, combined with practical, hands-on learning, ensures our students are fully prepared to meet real-world challenges in the workplace.
EXPERIENCED FACULTY
You will learn from instructors who have extensive experience in their professions and practice what they teach. Our faculty members understand the business world and will help you prepare for success. And their interest in your academic journey won't stop when a particular course ends; faculty members will continue to provide guidance and counsel.

AN AFFORDABLE EDUCATION
Central Penn College along with the education foundation provides more than $650,000 in annual scholarships––some of which are multi-year awards––to new students.
Our Free Housing Initiative can save first-year students, who choose to live on campus, up to $5,800, during their first academic year. We are the only college or university in the central Pa. region––perhaps in the entire state––to offer such a scholarship to all new residential students.
OUR FINANCIAL AID PROCESS STARTS WITH THESE THREE STEPS:
Apply for scholarships early in your senior year of high school. Complete a scholarship application online at centralpenn.edu/scholarships. Scholarship applications must be received on or before their deadlines.
Start the financial aid process by completing the following:

Order an FSA ID. You and a parent you live with (if applicable) need to order an FSA ID at fsaid.ed.gov to electronically sign documents.
Complete the Free Application for Federal Student Aid (FAFSA) online at fafsa.gov, using your and a parent you live with's (if applicable) tax information. Our school code is 004890. COMPLETE BY: March 1
Pennsylvania Residents: Complete the FAFSA by May 1 to be considered for a PHEAA State Grant. You must list your email address on the FAFSA so the PHEAA state grant agency can email you additional paperwork. If you have any questions, talk to one of our financial planning coordinators by calling 1-800-759-2727.
Complete the Federal Direct Student Loan Entrance Counseling and Master Promissory Note at studentloans.gov.

Apply for alternative loans or our payment plan. Go to centralpenn.edu/financialaid for all of our loan and payment options.
For a full list of financial aid options, including requirements, please visit centralpenn.edu/financialaid.
FINANCIAL AID
SCHOLARSHIPS
Money awards that do not have to
be repaid. Visit centralpenn.edu/scholarships to see application criteria and deadlines.
Academic Scholarship
Free Housing Scholarship
Early Start Scholarship
Excellence Scholarship
FBLA/DECA Scholarship
Keystone Scholarship
Legacy Scholarship
Opportunity Scholarship
Pennsylvania Grant Match for Out-of-State Students
Private Scholarship Matching Program
Regional Scholarship
Transfer Student Scholarship
More than $650,000 in institutional scholarships are offered annually, for those who qualify.
LOANS
Money awards that must be repaid.
Federal Direct Stafford Loan Master Promissory Note
Federal Direct Plus Loan
Private Loans
GRANTS
Money awards that do not have to be repaid.
Pell Grant
PHEAA Grant
SEOG Grant
FEDERAL WORK-STUDY PROGRAM
This is a need-based federal employment program that provides an opportunity for students to earn money while earning their degree. Students can work between or after classes. Students must demonstrate financial need and be willing to work. The Financial Aid Office will post positions that are available on and off campus; students are required to apply for a position and are paid at least minimum wage.
ALTERNATIVE RESOURCES
Outside agencies and organizations
can provide additional funding to qualified applicants. Veterans or GI Bill® benefits and Vocational Rehabilitation benefits are available to qualified students. Explore your guidance office, libraries, churches, banks, civic and professional organizations, and your parents' employers for other sources of scholarship money.
For a full list of financial aid options, including requirements, please visit centralpenn.edu/financialaid.
APPLY TODAY
Apply. Complete the FREE Central Penn Application for Admission at centralpenn.edu/apply, or by calling 800-759-2727.
Email Essay. Submit a 500-word personal statement describing your involvement in school or your community; email to admissions@centralpenn.edu.*
3 Required Materials. SAT and ACT scores are optional.** Submit an official copy of your high school or college transcript by mail to: 600 Valley Road, P.O. Box 309, Summerdale, PA 17093-0309
Visit. To schedule an admissions interview, sign up for a campus tour or attend one of our many fun and informative visit days, go to centralpenn.edu/visit, or call 800-759-2727.
Transfer with Ease. We will evaluate your current credits and help you make a smooth transition.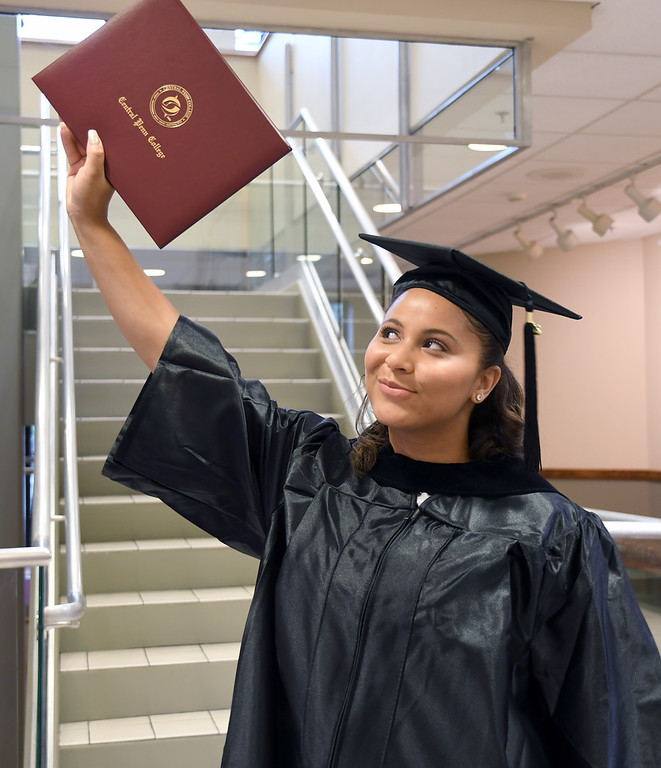 Once we have received all of your required admissions materials, we will review them and have your admission decision in two weeks or less. Health sciences and associate degrees in applied science programs may require additional time.